Bitcoin is likely to become the online equivalent to gold, according to a billionaire investor.
Peter Thiel was at the Economic Club of New York last week, talking about cryptocurrencies. As the first outside investor in Facebook (FB), he knows a good thing when he sees it.
Thiel sees something big in Bitcoin. And he has a history of being right.
Thiel has become a controversial figure. He got himself on the wrong side of the Silicon Valley elite when he became the first tech billionaire to openly endorse Donald Trump for president.
As a longtime libertarian, he felt excessive regulation was strangling business. He felt Trump's deregulation promises would resonate with voters.
He was right.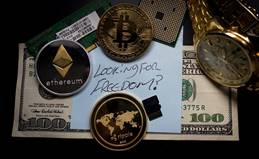 The Wall Street Journal reported that Thiel's Founders Fund bought about $15 million to $20 million of Bitcoin. The stake was worth "hundreds of millions of dollars" early this year.
After getting a law degree from Stanford in 1992, Thiel worked as a judicial clerk, a securities lawyer and a derivatives trader at Credit Suisse. In 1996, he struck out on his own and founded Thiel Capital.
In 1999, he co-founded PayPal (PYPL), an online payment platform that encrypted data on digital devices. In the budding age of e-commerce, it was a breakthrough technology. By February 2002, PayPal became a public company. By October, eBay (EBAY) acquired it for $1.5 billion.
Then, in 2004, Thiel invested $500,000 for a 10.2% stake in a fledgling social media startup. The business plan was to connect the entire world online. Its founder was a skinny Harvard dropout named Mark Zuckerberg.
That business was Facebook. Today, Thiel still sits on its board of directors.
As an investor, Thiel's gift is the ability to see emerging trends. In "The PayPal Wars," a 2004 book by Eric Jackson, a PayPal insider, Thiel theorized about liberating people from the perils of fiat currencies, like inflation and devaluation.
His view was hardened by 1998 Russian debt crisis, and the 1997 Asian Contagion. Thiel saw both events through the lens of corrupt central governments stealing wealth from their citizens.
A PayPal account, at least in theory, could allow citizens to flee their failing currencies in favor of stronger, more-stable ones. It could level the playing field against the elites.
Twenty years later, investors see many of the same benefits in cryptocurrency.
Thiel's interest is more nuanced. In its current form, he does not believe Bitcoin will ever supplant fiat currency. He recently told CNBC that Bitcoin is simply too cumbersome. In many ways, it is the opposite of PayPal — which remains fast, secure and widely accepted.
The real investment play, Thiel noted, is the potential of Bitcoin as a store of value:
"It's like bars of gold in a vault that never move, and it's a sort of hedge of sorts against the whole world falling apart."
His views are in line with the original thinking behind Bitcoin. It was born during the 2008-'09 financial crisis as an alternative to fiat money. It was supposed to be the ultimate store of value because it was outside of central control and deliberately scarce.
All of this appeals to Thiel.
There is one caveat, however. He believes there is a 50% to 80% chance that Bitcoin will become worthless. And he is even more bearish on alternative coins because, ultimately, longer-term investors should gravitate toward one cryptocurrency.
Related story: Why Most Crypto Altcoins are Going to Zero
I share the sentiment that some coins have longer-term investment value. But most smaller digital coins are likely to fail as regulators step up their efforts to protect investors. That process is already underway, and it could bring plenty of collateral damage.
In my opinion, the best strategy right now is to invest in the companies that make digital coin-mining gear.
Most cryptocurrencies must be authenticated using complex cryptography. Developers have taken to modified graphics cards from Nvidia (NVDA) and Advanced Micro Devices (AMD). So far this year, their stocks are up 25.5% and 6.5%, respectively.
This is a lucrative business outright. It is also increasing margins for other high-end graphics cards.
As for Bitcoin and cryptocurrencies, most investors should continue to stand aside. Longer term, the future is golden. In the nearer term, be prepared for more negative headlines and lower prices.
Best wishes,
Jon D. Markman
P.S. If you are interested in getting started in the cryptocurrency space, consider this. Weiss Ratings is the first independent ratings agency to release letter grades on cryptocurrencies. Our founder Martin Weiss is personally investing $100,000 in this space. And you can get our rankings delivered to your inbox every week.