The digital revolution. Lately, it is a catchphrase for everything techie. But a real revolution is underway. And the battle is for your wallet.

Cash is slowly disappearing. People are tapping their iPhones, making payments online and sending money to each other in messaging apps. Barriers are falling.

The opportunity for investors is enormous. Better still, there is a workable blueprint.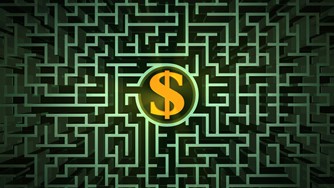 In January, Alphabet (GOOGL) inked a deal with Tencent, the giant Chinese gaming, messaging and payments company.

Most saw the agreement as a backchannel for Google to get back into China. Maybe. However, the exchange of patents sets up another motive.

Tencent is a financial technology pioneer. And its popular WeChat messaging app is widely viewed as the vanguard of contactless payments.

Think of WeChat as the Chinese version of Facebook Messenger. Only more significant, with far more functionality …

In addition to making calls, sharing photos, emoji and stickers, WeChat users can hail cars, order food, pay bills online and make real-world purchases. Soon, they will even be able to use the service as a wallet for their government-issued IDs.

WeChat is a living ecosystem. And it makes cash obsolete.

In the West, Facebook (FB)
wants to be WeChat. The social media giant now has 2.13 billion monthly active users, and big ambitions. In the past, Mark Zuckerberg, its founder and CEO, has talked about embracing the open architectures required to transform.

Amazon.com (AMZN), Alphabet and other nonbank, digital companies are in the mix, too. E-commerce and smartphones leveled the playing field. Customers have raised expectations for service and reliability. More important, they trust digital companies with their data.

In many respects, this is an arms race. One with a common enemy: cash.

Banks are desperate. They can see the coming digital revolution. They understand disruption may reduce their relevance and profitability. Consequently, most are stepping up their investments in costly infrastructure and making big bets about the future of financial services.

This means reevaluating transaction-processing models with blockchain … and rolling out open architecture, value-added digital services at a breakneck pace.

The opportunity for investors is finding the companies supplying the weapons …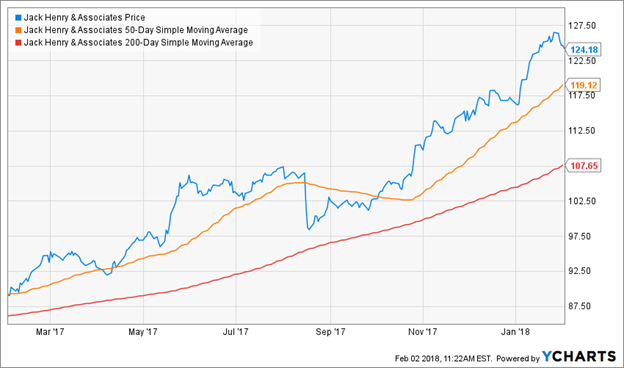 JKHY shares rose 39.3% over the past year.

One my favorites is a smaller, Midwestern financial technology firm, Jack Henry & Associates (JKHY). It operates behind the scenes, helping banks and credit unions control risks, costs and optimize revenue.

Jack Henry's online banking products are best-in-class. They allow retail banking clients to quickly move money, pay bills and even deposit checks by snapping a picture with their smartphone. Soon, voice-activated services using the Amazon.com Alexa platform will roll out.

And because the software architecture is built on open standards, it's scalable and portable to other platforms. With more than $1 billion in sales, the business is reliable, predictable and growing fast as banks of all sizes embrace digital.

Two other stocks on my radar are transaction specialists. The first, Square (SQ), focuses on small businesses. Its iconic little white credit card readers and new microloan subsidiary serve a market that has been abdicated by larger financial institutions.

The second company is a processing giant. It takes a risk-free cut from every credit and debit transaction. It is a terrific longer-term business. One that is providing the cover to innovate other contactless payment form factors like fobs, rings and smartwatches.

All of this is playing out against the backdrop of cryptocurrencies and blockchains.

Related story: Want to invest in the very best cryptos? Read this before you drop a single digital dime …
However, in the end, everyone wants the same thing. Bankers, ecosystem providers and transaction processors all want a piece of purely digital transactions.

Because all the major players — even the cryptocurrency advocates — want to kill cash, you can bet it is going to happen.

This is a huge, inevitable trend. One that will bring significant rewards for savvy investors.

Best wishes,
Jon D. Markman
P.S. For the very best companies to invest in to help you ride this powerful trend … and timely, detailed buying instructions sent straight to your inbox … click here.