Cryptocurrencies are crashing, even as the underlying technology begins to flower in the corporate world.
This week, the Spanish banking conglomerate Santander said it was ready to start using the Ripple distributive ledger to settle cross-border payments.
Despite this good news, digital coins are down 50% in 2018.
It is a sad state of affairs. The reality is, most cryptocurrencies have no intrinsic value.
However, I'm not suggesting all cryptocurrencies are doomed. Far from it. 
Currency, whether it be crypto or fiat, is about trust. The birth of Bitcoin during the heart of the financial crisis in 2009 is not an accident. The cryptocurrency was intended to be an alternative to paper money and the self-serving practices of global banking elites.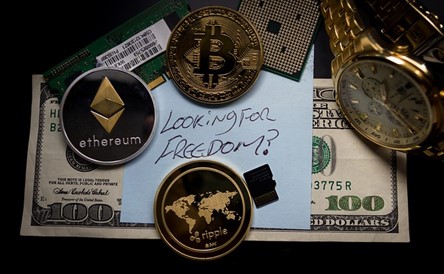 It was deliberately decentralized, impossible to duplicate, inherently trustless and scarce.
The whitepaper by Satoshi Nakamoto, Bitcoin's anonymous inventor, was a manifesto. A cryptography-based currency — one that's free from central authority and endless duplication — gave power back to its holders.
It also made the currency finite.

That is the inherent value of Bitcoin. And it is not going away anytime soon.
Startups, governments and corporate IT managers immediately saw value in the foundation of Bitcoin.
In theory, its completely transparent distributive ledger system — blockchain — eradicates counter-party risk. It could save billions in transaction costs, and lead to innovative new business models.
Santander's new mobile banking application will put this to the test. It runs on top of the Ripple xCurrent distributive ledger platform. Clients in Spain, Brazil, Poland and the United Kingdom will be able to make completely transparent cross-border payments, quickly. Santander is promising that same-day international payments will be verified within 40 seconds.
The project will not use XRP, the Ripple digital currency.

There is a good reason for this. Like most digital coins, XRP is not a trusted currency. It has no intrinsic value. Worse, it has no use case.
In January, as XRP shot up to $3.84. Chris Larsen, the founder of Ripple, saw his on-paper net worth zoom past Larry Paige and Sergey Brin, the founders of Alphabet (GOOGL). Two days later, his stake was worth $59 billion. That is Mark Zuckerberg territory.
Ironically, his paper billions came from creating currency out of thin air — the exact malady the Bitcoin whitepaper sought to cure.
Read Weiss Ratings' brand-new whitepaper about Bitcoin here >>
I wrote then that speculators were completely misunderstanding what XRP represented. They were conflating the potential enterprise value of Ripple's distributive ledger business with XRP.
The valuation was crazy. It made no sense.
XRP is not a requirement for the ledger business. Frankly, there is no reason for corporate clients to ever use it as a store of value. They can use U.S. dollars, and every other fiat currency.
Steve Strongin, a Goldman Sachs analyst, believes investors are beginning to wake up to this reality …
Bloomberg reports, in a Feb. 5 note, Strongin told clients they should be prepared for most digital coins to hit zero. And while he does expect survivors will increase in value, he predicts most, if not all, will never see their January highs again.

That is a strong statement. Never is a very long time.
I have been telling my members to expect a shakeout in cryptocurrencies. Most digital coins serve no purpose. They are like certain junior gold miners that have no prospect of finding gold. Only a handful might truly thrive. Once this process is complete, I expect their value will far exceed the January highs, as their scarcity becomes the investment thesis.
In the interim, the best strategy for investing in digital coins is still the companies that sell the pickaxes and shovels.
You can find several great examples of the kinds of companies that will thrive in the crypto revolution in the market right now.
Nvidia (NVDA) reported another solid quarter after the close Thursday. Its high-end graphics cards have found favor among digital coin miners.
The cards are currently sold out, pushing after-market prices to insane premiums. That demand helped Nvidia raise guidance for fiscal 2019 revenue, from $2.46 billion to $2.9 billion.
That's real money; not crypto … and thus, one of the best ways to make a side-eye play on the Bitcoin phenomenon.
Best wishes,
Jon D. Markman
P.S. Interested in crypto investing? Weiss Ratings offers the world's first ratings of Bitcoin, Ethereum, Ripple, Dash and dozens more cryptocurrencies. Every Friday, you can get our latest grades, recommendations and research sent straight to your inbox. Click here to find out how.
Editor's note: Each editor's opinions are strictly his or her own. They do not necessarily reflect the views or research of the publisher.