You can see the Under Armour (UA) logo everywhere …
While passing a group of teens … watching pro sports … working out at the gym … and all around town. Heck, I have several UA gym, golf and tennis shirts myself.
Unfortunately, ubiquity is not a business model. That's why managers and investors alike should take a lesson from the decline in business fortunes for this Baltimore maker of athletic apparel.
Exercise discipline. Keep your eye on the ball.
There is a certain irony. The Under Armour corporate story is rife with focus. It was founded by Kevin Plank, a gym rat who walked onto the University of Maryland football squad.
After his Terrapin days, he spent years living out of the trunk of his car, pushing his costly moisture-wicking T-shirts to NFL players.
By 2000, the brand was recognizable enough for shelf space at Dick's Sporting Goods (DKS). In 2005, Plank persuaded Goldman Sachs bankers to underwrite an IPO.
The company grew quickly. It invested early and wisely in product pitchmen, signing:
Steph Curry, a gangly, NBA point guard, long before the master 3-point-maker became a marketable MVP.

Jordan Spieth, an easy-going Texan who took the PGA Tour by storm.

Bryce Harper, the lanky MLB right fielder who was unanimously elected the 2015 National League MVP.

For good measure, throw in NFL quarterback Tom Brady, Olympic skier Lindsey Vonn and professional wrestler-turned-actor Dwayne "The Rock" Johnson.
 All of them epitomize discipline and focus.
Sadly, operational focus at Under Armour has been hit-and-mostly-miss. Consequently, since its IPO, the share price has bounced around like a Shaquille O'Neal free throw.
I'm not exaggerating.
On a split-adjusted basis, the stock was trading at $24 in 2005 … $66 in 2007 … $12.50 in 2009 … $105.70 in 2012 … and then $48.30 in 2013. In 2014 it reached $120, before falling back to $46.70.
Shares traded to $103.70 as recently as 2015. Last week the stock closed at $12.52, on disappointing financial results, and the company lowered guidance for fiscal 2018.
During that time, quarterly sales grew to $1.4 billion. Its gear is everywhere. Plus, it's endorsed by high-profile athletes and celebrities. Yet, the company has created no shareholder value since its IPO.
Managers want to blame the economy. It's not that.
In 2011, Under Armour began betting on connected fitness. It started making electronic fitness trackers, heart-rate monitors, headphones and even physical scales.
And the company wanted to make all these devices "smart." So in 2016, it spent $700 million buying software companies, and inked a deal with IBM's Watson, the cognitive computing platform. Keep in mind, all of this put it in a head-to-head shootout with the likes of Google (GOOGL), Samsung (SSNLF) and the entire Apple (AAPL) ecosystem.   
Lofty sales objectives were always a pipe dream.
To make up the revenue shortfall, Under Armour began wholesaling its footwear and apparel lines to discount retailers like Kohl's, Designer Shoe Warehouse and Famous Footwear. Predictably, that strategy diminished brand value, and it hurt sales at early supporters like Dick's.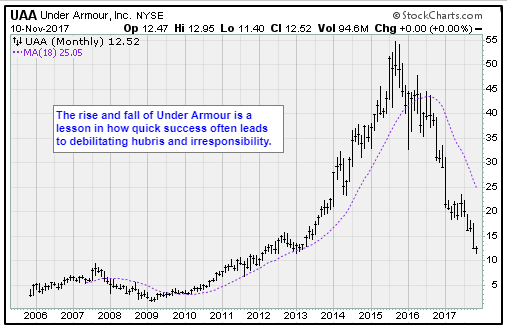 The proof came last week when Under Armour reported its very first third-quarter revenue decline as a public company.
For a long time, I have made the case that most stocks suck. It is inelegant, I know. But it's also true.
On a longer-term basis, most stocks will drastically underperform the unmanaged market index. Many more companies, even popular brands like Under Armour, will find ways to destroy shareholder value despite their best intentions.
They all suffer from the same problem: Managers are not focused on shareholders.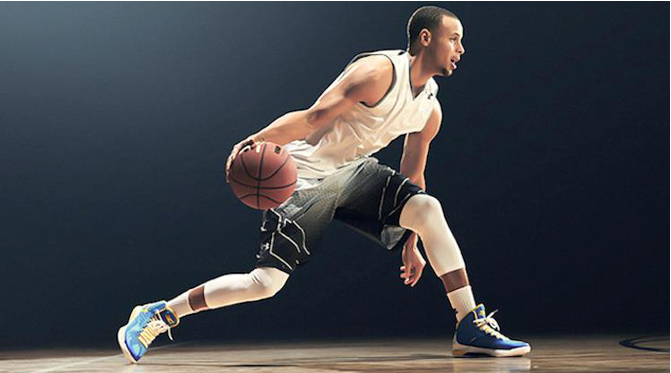 In some cases, it is pure hubris. They allow too much corporate treasure to be flushed away on immature vanity projects. In other cases, they get too far away from the core strengths of the enterprise.
Good companies never do this. Good managers maintain a laser-like focus on growing shareholder value. They are disciplined. They devote corporate resources where return on investment is highest.
When they have shown they can do this over at least a seven-year stretch, I call them The Power Elite.
Among my favorite companies at this time, in sharp contrast to losers like Under Armour, are longtime value-creators like big-cap Visa (V) and small-cap Descartes Systems Group (DSGX). Click here to learn more.
Best wishes,
Jon Markman