Big Blue. It's supposed to be the best of blue-chip stocks. It's not.
The latest financial results for International Business Machines Corp. (IBM) have arrived. And they are dismal, again. Mark it. Twenty-one consecutive quarters of declining revenue.
It's a sucker stock that Wall Street wants you to own. Don't be a sucker.
Headquartered in upstate New York, IBM popularized mainframes in the 1950s. By the era of Mad Men and miniskirts, its giant computers were filling rooms in New York City office towers, and changing the course of business. When the 1970s rolled around, the company pushed computing onto the desktop, way ahead of the pack.
IBM used to be a leader. The term "personal computer" was IBM's idea.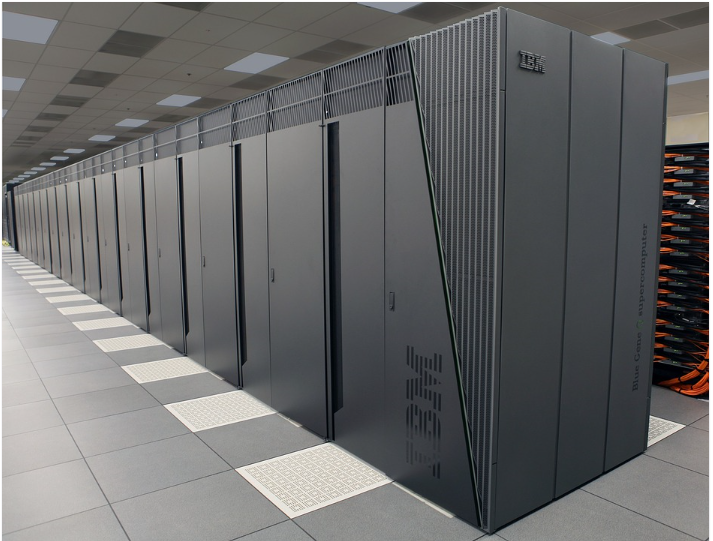 It exited PCs in 2005 and turned to consulting and information technology. And Wall Street promised a new era of leadership at Big Blue. It didn't happen.
Even IBM's cutting-edge investments have yielded smaller returns than competitors. Watson, its Jeopardy-winning artificial intelligence service, is considered a joke by some experts —  at best a marketing stunt.
IBM's analytics business grew to $5.1 billion in the quarter, up 4%. Cloud computing reached $3.9 billion, up 15%. By way of comparison, Microsoft (MSFT) recently reported cloud growth up 97%, on a $18.9 billion annual run rate.
To add insult to injury, Facebook (FB) is planning to move its 1 billion-strong WhatsApp service from IBM's cloud to its own data centers.
Despite these failures, Wall Street is still pushing IBM.
Of 27 Wall Street analysts covering the stock, according to MarketWatch, 22 had Buy or Hold ratings. Only five had the courage to state the obvious, Sell.
There is a good reason for this. It is about serving big institutional clients.
Wall Street wants to maintain access to the corporate executives at big firms like IBM. In exchange, it is willing to dupe retail investors with bogus recommendations. For them, it's a fair trade.
Access for their big accounts in return for your dead money.
Bloomberg's Matt Levin has a blunt assessment. The ex-investment banker views part-time investors who rely on analyst picks as weird, niche hobbyists. He sees no need to change the capital markets for Mom and Pop.
"If you believe that the job of a sell-side analyst is to tell people which stocks to buy and which ones to sell, you need to stop believing that right now, because it is not true," Levin writes.
I'll give him that much. It is not true.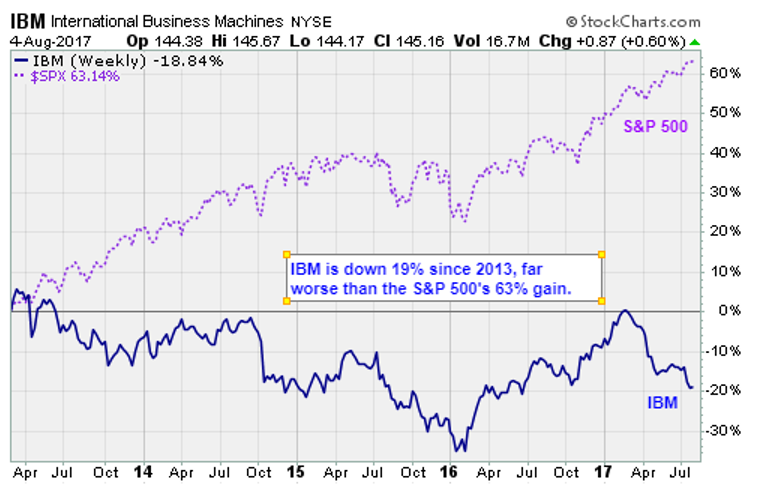 Steering clear of sucker stocks is part of the service I offer to members. Not getting sucked into losers, even ones with Wall Street pedigree, is just as important as finding winners.
Writing in the Wall Street Journal, Serena Ng and Thomas Gryta likened analysts to handbag floggers.
They contend that you can't give Coach Inc.'s stock a Sell rating and then expect the CEO to attend your investor conference. You have to be a brand ambassador, of sorts.
Gee, when you put it that way.
The story is backed-up by loads of compelling evidence. Since the financial crisis in 2009, total U.S. stock compensation has been steadily declining. Meanwhile, fees for access are on the rise.
And institutional clients are making it clear they have no interest in Wall Street stock research.
I'm committed to finding the types of stocks that do pique their interest.
These companies are not aging behemoths with cute monikers. And they are not easily sold to retail investors.
They are mostly large, consistently profitable under-the-radar companies that generate growth by focusing on the care and feeding of real customers, not Wall Street analysts.
And their stocks rise in good markets and bad. They are the stocks you should be buying.
IBM shares are down 12.5% year to date, 11% over the past year and 26.9% over five years.
The only Big Blue for investors in this bargain is a painful bruise.
Best wishes,
Jon Markman