The future of spying arrived while you weren't looking. The new eye-in-the-sky isn't some shiny satellite. It's not even a plane or a helicopter.
Drones make perfect super-snoopers.
They are discreet and inexpensive. They can be upgraded easily. Or switched out for maintenance.  And when tethered to a power source, they stay aloft for days.    
Flying robots are changing surveillance … and the landscape for sensors.  Investors should take note.
It's not hard to see the advantages of drones over manned aircraft.  Drones take better pictures because that is the reason they exist.  They are quieter.  And they don't need coffee or bathroom breaks.
The applications are numerous.  Several smaller companies are lining up to build solutions for law enforcement, prisons, asset protection, firefighting, border surveillance and special operations.
In August,  The Guardian reported, the U.S. Secret Service planned to test a special unmanned aerial vehicle to track President Trump.  The custom drones will use a 360-degree camera to spot threats as the president vacations at his golf resort in New Jersey.  The camera also boasts a 30X zoom and infrared mode. It sends secure video data back to operators through a tether.
If all goes well, the Department of Homeland Security will use similar spies-in-the-sky at other high-profile events.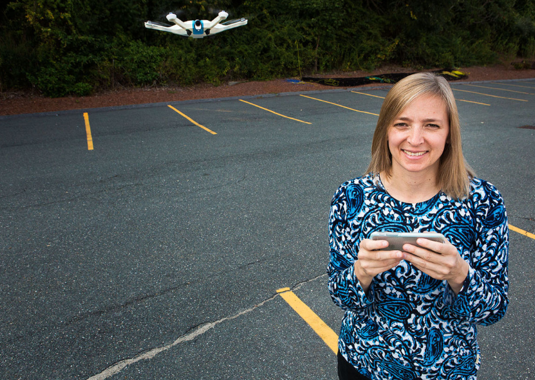 CyPhy Works, a Boston-area startup founded by Helen Greiner, above, set the precedent.  Greiner co-founded iRobot, the company behind the Roomba autonomous vacuum.
Her CyPhy drones helped provide security for the Boston Marathon this year.  Four years after the terror attack, the drones gave law enforcement a fresh perspective on crowds and preparedness.
And Greiner also convinced the U.S. Army to put her drones onto the battlefield. She claims the bots saved the lives of hundreds of soldiers and thousands of civilians.
This week, Australian officials announced they too hope to save lives using drones for surveillance.
And a company called LittleRipper will monitor popular beaches Down Under for sharks.  Current high-definition cameras are already superior to human eyes.  LittleRipper will up its game further with machine-learning detection systems.
The rise of drones highlights an appealing investment angle.  We are entering the era of data analytics and artificial intelligence.  These technologies need data.  They need sensory input.
The amount of data produced from vision-system sensors is enormous.  The same is true for ultrasonic listening, vibration, rain, light and other radar sensors.  These input devices are coming very soon to most of the dumb things in our everyday lives.   
I have been watching the companies that make the sensors.  Although they have performed well, this is just the beginning.
The sensor revolution starts now.
Surveillance is going to be a big business, too.  Continued anxiety over terrorism and the growing acceptance of surveillance means the outlook is bright.
Earlier this year, Markets and Markets, an Indian research firm, forecast the market for video surveillance equipment would swell from $30.37 billion in 2016, to $75.64 billion in 2022.
While most of the pure players are startups, there is a surprising assortment of public companies offering software platforms, storage and specialty silicon. One attractive camera-chip maker is Ambarella (AMBA), and one attractive military drone maker is Elbit Systems (ESLT) in Israel.
These companies are set to grab a portion of that $75 billion 2022 spend.
I'll be keeping my eye on these stocks, and more like them.  And when I get the signal that it's time to go for potential profits, I'll alert my Tech Trend Trader members right away. 
Best wishes,
Jon Markman