Sure, people hate airlines. But the business of making airplanes is lifting off …

Last week Boeing (BA) reported spectacular fourth-quarter results. Fueled by demand for its 777 wide-bodied jets, the Chicago company is in the midst of a full-throttle supercycle.

Since the 2009 lows, shareholders have enjoyed gains of 877%. That is better than Alphabet (GOOGL). And there is every indication there is plenty of runway left.

Its success is a lesson for corporate managers and investors. Leverage strengths, and focus.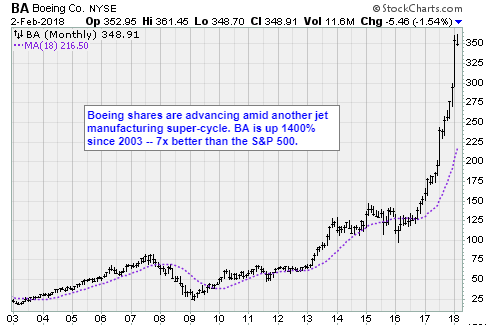 As a company, Boeing is no stranger to success. In 1954, it launched the 707, the first jet-powered airliner. A dozen years later, it set standards again when it put four jet engines in the 747, the first jumbo jetliner.

The first 777, launched in 1994, has been even more revolutionary …

The 209-foot-long, 506,000-pound aircraft was the first airliner designed solely on a computer. Its powerful twin turbofan engines are the largest, and most fuel-efficient, ever built. And its widebody can carry up to 440 passengers 8,270 miles without refueling.

Related story: Software Takes Flight at Airlines. How to Book Gains

Traditionally, carriers relied on three- and four-engine aircraft. They were more practical.

The Federal Aviation Authority barred two-engine airplanes from long-distance flights. The logic was sound. If one engine failed, having another two or three was a good thing — especially when the route covered large bodies of water.

Boeing convinced the FAA to rate the 777 safe for three hours of flying time, on only one engine.

Overnight, three-engine airliners became obsolete. They could not match the carrying capacity of the 747. Nor could they compete with the fuel efficiency of the 777.

Boeing managers having been exploiting this advantage ever since …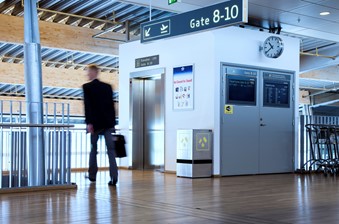 In 1996, the company introduced 777 200ER, an extended-range version. In 1998, engineers stretched the cab to carry 550 passengers safely.

The longer 777 300 version was competitive with more substantial, four-engine aircraft. In 2002, they upped the range, with the 777 300ER.

In 2006, Boeing introduced an extended-range version of the original aircraft, the 777 200ER. The airplane, known as the WorldLiner in industry circles, is in service at every major airline. It is also capable of flying 11,000 miles nonstop.

The versatility of the 777 changed the way airlines operate. Fuel efficiency, coupled with the ability to carry lots of paying passengers, was an instant hit with airline CFOs.

Related story: One Easy Way to Outsmart Buffett: Avoid Airline Stocks

On the analyst conference call last week, Dennis Muilenburg, Boeing's chief executive, noted the 777 is the most successful aircraft in aviation history. Twenty-four years after its introduction, it is a big part of Boeing's success.

In 2017, new commercial orders reached 912 units, bringing the total backlog to 5,800. At the current production rate, that is seven years' worth of orders. And a revamped 777x — with a wider body and even more efficient turbofan engines — is now in development.

From the beginning, Boeing managers carefully planned the 777 as a platform. They wanted it to be versatile enough to develop future products, and sufficiently robust to build advantages over competitors.

Many companies are following this strategy. Finding the best level to invest in one of the services I provide to my members on an ongoing basis.

One of my favorite companies is a conglomerate with life sciences, diagnostics, dental and environmental interests. None of these businesses are especially interesting independently. The secret sauce is an overarching management principle that leverages all the disparate bits and pieces to make all these interests more profitable. The business itself is a platform. And it is consistently profitable.

Like Boeing, this business turned products into platforms. They focused on the things they did well, then leveraged those strengths. The changes they made will imbue even bigger profits going forward. To see how you can get my detailed buy signals, sent straight to your email inbox, click here.

Best wishes,
Jon D. Markman