Imagine spending your day eating ice cream and drinking cherry Coke. Or hanging out with Bill Gates and LeBron James.
The next meeting is coming up on May 5. Investors got a preview of what's to come over the weekend, when he released his latest shareholder letter.
Buffett's bottom line hasn't changed: Buy businesses for the longer term. Buy proven managers. 
It's simple, I know.
Buffett does not spend time building price models, or looking at charts. In his opinion, that is not the way to make great longer-term investments.
The really good stuff takes time. It comes from finding businesses with competitive advantages and high operating margins. Then, the secret is to let accomplished managers work their magic.
It is hard to argue with his success.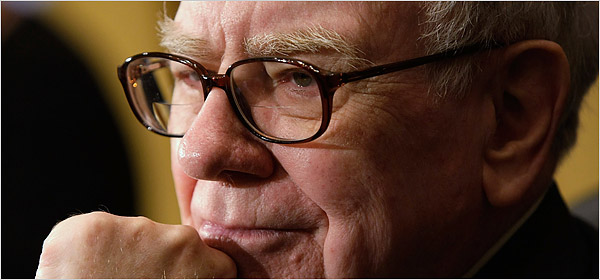 The story of Warren Buffett's Berkshire Hathaway began in 1962 when he started buying shares. Back then, it was an aging Massachusetts textile business whose shares traded for about $7.50 apiece.
Buffett, then 31, was attracted to the company because the share price was depressed. And those shares rallied every time managers announced they were closing a mill.
His growing stock position rankled the company's management. They made a verbal deal to buy his shares for $11.50 in a tender offer. He accepted.
But when the written offer arrived, managers had reduced the price, to $11.375. They saw it as a nuisance tax.
According to Buffett, the shortchange ruffled his feathers. Instead of accepting the tender, he bought more shares. Eventually he took over the company.
Today, Berkshire Hathaway is one of the world's leading conglomerates. It has 377,000 employees. Its insurance business, Geico, is the third-largest in the nation. Wholly owned subsidiaries include Dairy Queen, Lubrizol, Fruit of the Loom and Burlington Northern Santa Fe railroad.
Buffett and his senior partner, Charlie Munger, have also built up an impressive stock portfolio. The firm acquired major stakes in Wells Fargo (WFC), Apple (AAPL), Coca-Cola (KO), American Express (AXP), Bank of America (BAC) and others when shares were out-of-favor.
In 2013, Buffett and Munger bought a combination of preferred shares and equity to take control of Heinz. At the time, the threat of house brands at grocery stores was weighing heavily upon the stock.
Berkshire invested $9.8 billion in the ketchup maker. Today, that investment is worth $25.3 billion.
At the 2017 annual shareholder meeting, investors were greeted with $44.9 billion in profits. And the company is swimming in cash, with $116 billion in retained cash and equivalents.
Despite the negative impact of last year's natural disasters — like the California wildfires, and hurricanes Harvey, Irma and Maria — fourth-quarter net income was $32.5 billion, up 400%. These same events might have also helped insurance premiums rise 25%, to $114.5 billion.
Berkshire Hathaway shares have reflected the strength of its core and investment businesses. Since 1990, when shares were trading hands at $7,100, then have risen to a remarkable $304,000.
That's like trading a used Toyota for a Ferrari 488 Spider.
The good news is other Berkshire-like investments exist. These businesses are spinning off lots of free cash flow. They are growing fast, given their inherent competitive advantages.
I have made a list of these stocks. I call them The Power Elite. They're good. But they are not always in my buy zone.
I'll give you an example. A few months back, I recommended that my Power Elite readers buy Domino's Pizza (DPZ) in the $180s. It had fallen because some investors surmised weaker NFL ratings would throw sales for a loss.
Many short-sighted investors forgot something important. That football fans love to order pizza and sit around the big screen, cheering and munching with their fellow fans.
The weakness turned out to be a great buying opportunity.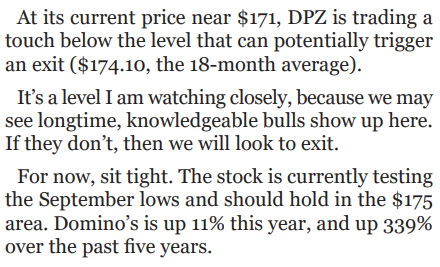 Those who were quick to sell their shares missed an important fact. That is, Domino's is much more than just conventional pizza.
The company has been working to remove all friction from the pizza-buying process. Its digital business is the leader in the industry. Today, customers can order a pizza and get it delivered without ever talking to a human. Digital makes up half of its business.
Domino's is the Uber of the pizza business. And it is tirelessly collecting data, to learn what its customers want. It is also wringing out costs in the supply chain with data analytics.
It has perfected the art of squeezing cash from pizza. There are big opportunities for international expansion, and further refinement of the business model.
You do not have to be Warren Buffett to invest like him. You simply have to find great businesses with embedded competitive advantages. Once you have made a list, find the right opportunity to invest.
Don't flinch. Buy for the longer term. Let the managers do the work. When their efforts pay off, yours should, too.
Best wishes,
Jon D. Markman
P.S. To get the next Power Elite play in your inbox the moment I hit the "send" button to my subscribers, click here.