Caterpillar Inc. (CAT) makes earth-moving machines. And last Tuesday, its blowout third-quarter earnings report propelled the stock to a record high.
This helped the Dow Industrials make a major move, too — to their 54th closing high of 2017.
The company's Q3 earnings-per-share came in at $1.95. That's 68 cents higher than Wall Street expected, and 85 cents more than the year-ago quarter. Revenues spiked 25% year-over-year, to $11.4 billion.
And company executives conveyed their faith that this growth should continue into Q4. They raised their 2017 guidance to $6.25 a share, which is also well above the $5.29 Wall Street was expecting.
Many on Wall Street feel giddy about what they believe this means …
Many see the Peoria, Ill.-based company as a bellwether of the U.S. construction industry and, therefore, the health of the broader economy.
So, in theory, what is good for this maker of excavators is good for the country, right? Well … don't get too excited there.
Caterpillar's rise is a management story several years in the making. One that is a lesson to disciplined investors.  
To be sure, the global economy is on the mend. In September the Organization for Economic Cooperation and Development upgraded its global economic forecasts. It now expects 3.5% growth in 2017, and 3.7% in 2018. The big winners should be China, Russia, Europe (excluding the United Kingdom) and the United States.
That momentum showed up in Caterpillar's results. Domestic sales surged 27%, helped by stronger sales of equipment for construction and energy. And, revenues were 31% higher in Asia-Pacific on the back of strong demand from China for building machinery.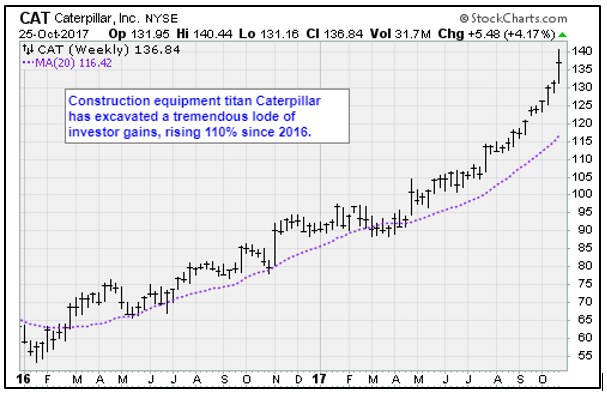 While macroeconomic growth is a tailwind, the real story is on the operational side.
In 2010, Caterpillar managers sought to divorce its business fortunes from the ebb and flow of global economic cycles. They embraced a new business strategy called the Operating & Execution Model.
The results have been extraordinary …
With the O&E model, the company systematically builds competitive advantages by allocating more and more resources to the most profitable parts of the enterprise. If done right, O&E should force a laser-like focus on its business strengths. This should pave the way for profitability even when business cycles turn lower.
There is another benefit: inventory management.
This year, the pace of the global economic recovery has exceeded expectations. Dealers have negligible inventory, and they need to replenish it at any cost. This gives Caterpillar huge leverage and extraordinary operating margins.
In its third quarter, margins reached 18% in the construction segment.
Caterpillar's O&E model is not really innovative. Variations have been employed all across corporate America. Yet, it does not translate well in all boardrooms. Scale is important. Vision, focus and execution are vital.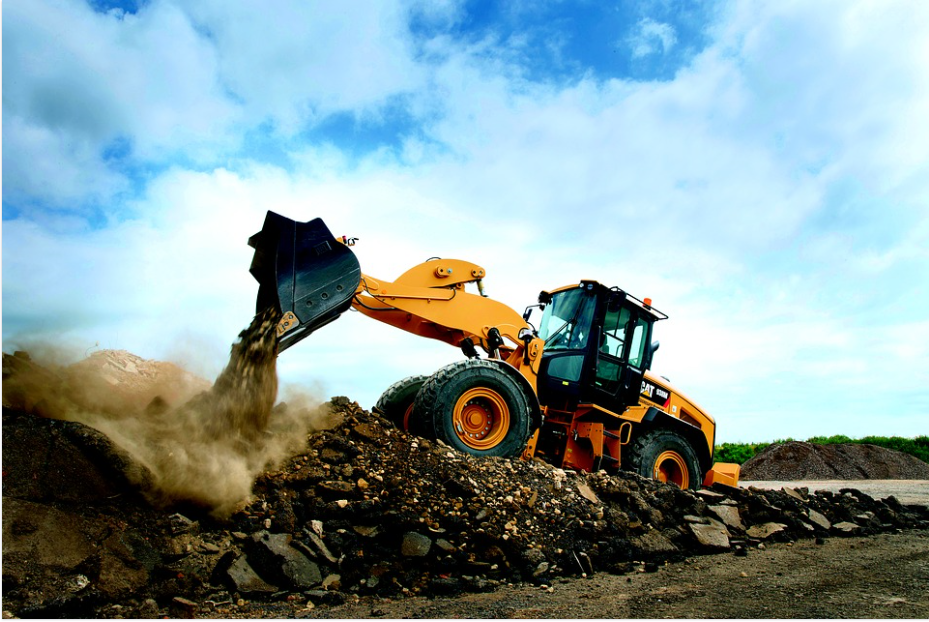 Only a select group of companies can tick all these boxes. They stick to their knitting. They dominate their sectors, using scale, strategic investments and technology to build advantages. In the process, they mint shareholder value.
I call these kinds of companies The Power Elite. I have a shortlist of names that qualify for this exclusive club. And I have been recommending them to my members when the time is right.
You can find these companies across a wide spectrum of businesses. They may make industry-standard logistics software. Or, high-tech water heaters. Or robots to process and package food products.
All these companies share two characteristics – industry domination and operating leverage.
It took Caterpillar a long time to reach this path. It always made best-in-class machinery. But unpredictable economic and geopolitical cycles made it tough to stay focused.
It took a companywide commitment to O&E to improve its operational performance.
In its construction segment,

product quality

has improved 40%. At the same time, assets deployed have shrunk by $3.3 billion. And the company is building more, while reducing the footprint of manufacturing facilities by 7.9 million square feet.

In the resources segment, Caterpillar reduced its breakeven point every year since 2012. And it's moving aggressively toward autonomy and electrification to streamline the product line.
And these results are showing up in the share price …
Operating profit was $1.577 billion last quarter, compared to $481 million in Q3 2016. Sales increased in all the regions the company serves. And the company raised fiscal 2017 revenue guidance upward, from $42 billion to $44 billion.
It's no wonder that shares surged as high as $140.44 the day it released those numbers.
Caterpillar is a great operational story. It's the kind of excellence investors should demand. Just be careful not to mistake it for a global economy story.
Best wishes,
Jon Markman
P.S. When it comes to picking Power Elite stocks, you want companies that crush the competition and run a tight financial ship. But that isn't all. You also want to look for companies that are throwing off big, consistent returns — year after year. Stocks that promise to keep rewarding their shareholders for a long time to come. And right now, I'm putting the finishing touches on my next "power play" to send to my subscribers. To be among the first to receive it in your inbox the moment it's time to buy it, just click this link here.