Big Announcement: My colleagues Dr. Martin Weiss and Sean Brodrick, have just announced precisely WHEN gold, silver, oil, and four other commodities will EXPLODE higher. Plus they pinpointed the precise profit potential for each. Click here now for the recording of their 30-minute emergency briefing. It was just posted on our website a few minutes ago.
Dollar General (DG) is a great American success story. In an era when department store chains are shuttering hundreds of stores, it's thriving.

This week, the Tennessee deep-discount retailer moved into the spotlight when the Wall Street Journal ran a story about its remarkable success. It's a testament to focus and business acumen. It's a rejection of zero-sumism.

It's also a lesson for investors. Focus on big trends and find leaders.

There is an underlying theme to the Dollar General story. It is thriving in small, rural communities left behind by the economic recovery. Among other low-cost items, its stores sell canned goods, condiments, plastic toys made in China, and frozen pizza. Meat, fresh vegetables and fruit are not stocked. They are too expensive to keep.

The business model is geared toward low cost, convenience and higher margins. Well-known brands are carried in smaller formats, or not at all.

Todd Vasos, Dollar General's chief executive, told the Wall Street Journal, its core demographic is households with incomes of less than $40,000, and "the economy is continuing to create more [of them]". He has a point. In 2016, Pew Research released the results of a longer-term study. It showed the middle class lost ground in 203 of the 223 metropolitan areas surveyed.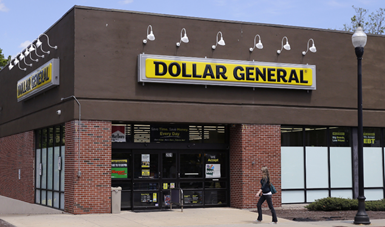 For Dollar General, this has meant stores in new neighborhoods, and explosive growth. Annual sales have surged from $16.02 billion in 2013, to $21.99 billion through fiscal 2017. And the company plans to add thousands of new locations to its 14,000-store footprint. Today, it operates in every U.S. state except Alaska, Hawaii, Idaho, Montana, Washington and Wyoming.

In retail, the tendency has been to focus on the demise of brick and mortar stores. This analysis is too simplistic. Bigger trends are at work. Traditional retail is not dying. It's changing, being hollowed out in the middle by Wal-Mart (WMT), Costco Wholesale (COST) and Amazon.com (AMZN). These companies have economies of scale. They are able to dictate prices. On the other end of the spectrum, Apple (AAPL), status brands like LVMH Moët Hennessy Louis Vuitton, and discounters like Dollar General, are thriving.

Retail is not a zero-sum game. It's more striated.

Dollar General's strategy bucks current conventional wisdom in the retail sector. It's not opening giant, multimillion-dollar stores and warehouses. It's not offering customers products in bulk. It's not concentrating on delivery. It refuses to play on the same field as Costco, Wal-Mart and Amazon.com. In many locations, stores are no bigger than a basketball court. Even with larger stores thrown in, the average cost of a new location is $250,000.

And the company does its homework. When Wal-Mart closed 100 small town Express-branded stores, Dollar General was quick to scoop-up many of those locations. The company filled the stores with goods packaged in smaller quantities, or branded specifically for the target demographic. Vasos says anything with camouflage sells well. The result was higher margins.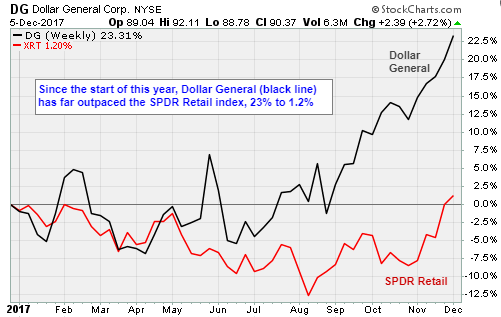 In fiscal 2017, Dollar General had $1.25 billion in profits, on less than $22 billion in sales.

The rise of the low end is a big trend in retail. A 2017 research report from Boston Consulting Group revealed that in the U.S., this process is in the very early stages. It is creating obvious corporate winners and a brand-new ecosystem around infrastructure. This is happening, and investors are largely oblivious.

The time to buy these companies is now. The build-out phase is only beginning. Meanwhile, existing stores face very little price competition.

For my Tech Trend Trader members, I have identified several stock ideas along these lines. One company builds enterprise network software that helps these companies consolidate and share information across hundreds of stores and hubs. Another is a leading maker of inexpensive but effective packaging that is critical for showing off brands as well as reducing shoplifting. Another makes the robots that seal processed meats and can soda.

All of these companies are seeing increased sales as discount retailers tailor more products to low income households.

The secret is to ignore conventional wisdom. Focus on the big trends that are already in motion. Find winners and hold on.

URGENT: Be sure not to miss today's big announcement: Martin and Sean have just announced precisely when gold, silver, copper, oil, and three other commodities will bottom and when they will explode higher.
They provide their price targets. And they give specific numbers on the windfall profit potential in each market. Click here now for the recording of their 30-minute emergency briefing. It was just posted on our website a few minutes ago.
Best wishes,

Jon Markman