It is a crazy time. Everywhere you look, there seems to be a bubble forming. Cryptocurrencies, commodities and global stocks are all soaring.

And it is not just the gains. It is the velocity. Asset classes are increasing in value, fast. It all seems unsustainable and dangerous. It is the kind of environment that gives conservative investors pause.

In reality, it's the best time to invest. It's the blow-off phase. And it often leads to spectacular gains.

That's the finding from Jeremy Grantham, the co-founder of Grantham, Mayo and Otterloo. That's a Boston-based investment firm with some $118 billion under management.

As investment bubbles go, Grantham has become an expert. He is widely credited for predicting both the 2000 and 2008 market crashes. And he is in high demand for his view on the current state of affairs.

The only thing is, he does not see a bubble. At least, not yet.

What Grantham is predicting is even more spectacular …

In a recent note to clients, he wrote:

"I recognize on one hand that this is one of the highest-priced markets in U.S. history. On the other hand, as a historian of the great equity bubbles, I also recognize that we are currently showing signs of entering the blow-off or melt-up phase of this very long bull market."

Grantham is looking for stocks to rise substantially, with increasing velocity.

He is not the first strategist to predict healthy gains in 2018. Some have given credit to President Trump. Like it or not, it is hard to deny his pro-growth agenda is positively impacting investor psychology.

As measured by the Standard and Poor's 500 Index, the market was perfect in 2017, rising in total return (including dividends) every month. And it's becoming clear our new president feels that is his measuring stick.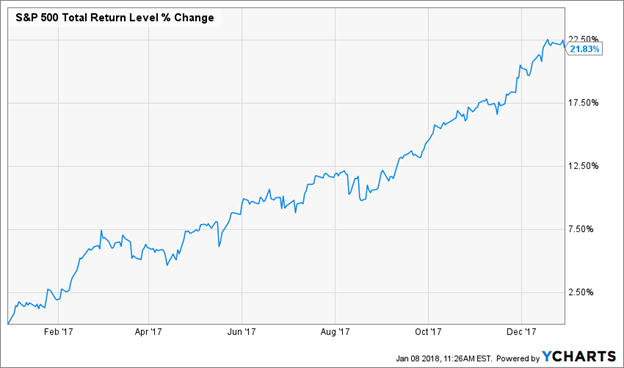 The S&P 500 Total Return Index rose 21.8% in 2017.

Goldman Sachs is calling this rational exuberance. The idea is tax cuts, fast-rising GDP and slow-rising interest rates will lead to a 15% earnings gain for the S&P 500.

JPMorgan says investors should eat, drink and be merry because good times lie ahead.

Personally, I think the positive vibe results from numerous sources …

We are witnessing the best time in a generation to be a shareholder, with corporate buybacks and rising dividends enhancing value at an astonishing rate. The net effect is stronger earnings and a reduced supply of stock.

Incredible technological advances are impacting productivity. Robotics, sensors and new methods of data analytics are changing the way goods and services are developed and sold.

It all leads to higher stock prices.

Now, managers are going to get a big tax cut, and a chance to repatriate cash hoards they have been stockpiling overseas. I can guess what they will do with that windfall. They have been conditioned. That cash … and the massive share buybacks it affords … is effectively a put against a significant decline.

For two years, I have been telling my members to stay fully invested — and to use leverage if they are capable of withstanding the volatility.

Above all else, I have been urging members to focus on stocks with winning business models …

One of my favorite stock ideas is Visa (V), which dominates the financial transaction business. While many investors have become fixated on cryptocurrencies, this firm has quietly built the best franchise to benefit from a cashless society.

Visa gets a cut from more than half of all online and offline transactions … while taking no credit risk. Better still, it is experimenting with new technologies like Blockchain, the distributive ledger system underlying Bitcoin.

Related story: The Ripple Effect: Cryptocurrency Leadership
Governments, corporate payrolls and benefits are going cashless. In the end, the underlying currency does not matter. The money is in the secure transaction.

Another favorite is Jack Henry (JKHY). This company makes critical software for regional banks and credit unions. And its business is solid.

As smaller players struggle to stay relevant with customers, they are implementing online tools at a furious pace. Recently Jack Henry developed a software platform that allows customers to check balances, pay bills and make transfers using their Amazon Alexa. It is a fast-growing business … one with wide margins and a significant share repurchase program.

MarketWatch that reports that Grantham says this melt-up phase could take the S&P 500 near 3,700 over the next nine to 18 months. That seems about right.

I understand the current environment may feel frothy, and uncomfortable. But these are the phases that create wealth.

Best wishes,
Jon Markman