Adidas, the giant athletic shoemaker, wants to 3D-print your next pair of sneakers.
The iconic shoe manufacturer wouldn't be the first to toy with the idea. Rivals have played with the technology, making prototypes or one-off designs for celebrity athletes.
But Adidas is pushing further. It will use industrial 3D printers for mass production. And that's a very big deal.
Gerd Manz, Adidas head of technology innovation, told Reuters: "We've cracked some of the boundaries."
3D printing is a cool idea. You spec out details of a product, put its raw materials like plastic and malleable metal into a black box, then push a button to "print" it by layering those materials in accordance with the blueprint. The economics have proved more difficult than the technology.
Yet in the New Gilded Age, almost anything is possible. The exponential progression of information technology is blurring the lines between all sorts of disparate disciplines. If dreamers can imagine a product or service, they can build it.
To make its 3D blueprints a reality, Adidas will work with Carbon, a Silicon Valley company funded by General Electric (GE), Alphabet (GOOGL) and Sequoia Capital.
The big breakthrough came with the use of light, oxygen and a special polymer resin. Carbon calls the process Continuous Liquid Interface Production (CLIP), and it rivals traditional injection-molding at scale.
Plus, CLIP leapfrogs slower 3D printing techniques pioneered by Hewlett Packard (HPE). It also widens the use-cases to electronics, intricate medical devices, industrial components and all sorts of cool stuff in between.
The Milwaukee School of Engineering uses CLIP to build molecular kits for bio scientists tinkering with the building blocks of life. Ford (F) uses it to expand its own materials research for car parts. It's even being used at Legacy Effects, the Hollywood special effects company behind the futuristic creatures of Avatar, Guardians of the Galaxy 2 and Godzilla.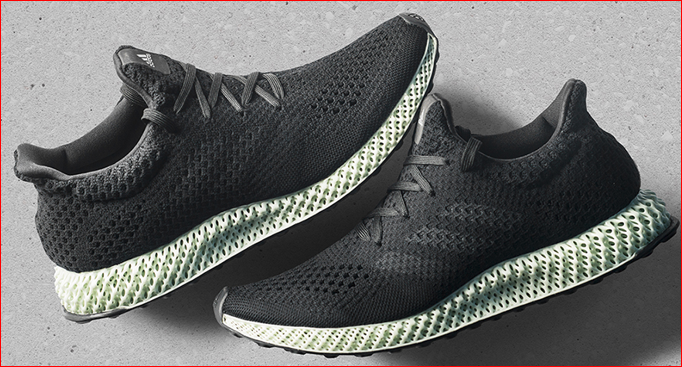 At Adidas, the near-term goals are more modest.
This year, it plans to 3D print about 5,000 pairs of Futurecraft 4D sneakers, shown above. In 2018, it will ramp up production to 100,000 units.
While that is a quantum leap over plans from rivals Under Armour (UA) and Nike (NKE), it's still a tiny fraction of the shoes the German company will make this year.
As a point of reference, Adidas sold 15 million pairs of its iconic shell-toe Superstars in 2015. In 2016, it made 1 million pairs of sneakers made from recycled ocean plastic.
Futurecraft 4D is a game changer because it changes the manufacturing process. Printing shoes dramatically cuts the time required for models to move from design to store shelves. It makes small batches economical. Ultimately this will drive the made-to-order market of the future.
That is the dream. A future where customers buy branded goods online tailored to their own measurements, download a digital file, then 3D print the product at home or at a nearby storefront location. No factories. No inventory.
While we are not there yet, you can see it off on the horizon. Advances in the New Gilded Age are making it possible for dreamers to put the pieces together.
Chemists are fiddling with molecular structures. Programmers are working through modeling and software algorithms. Engineers are building robots.
In the interim, companies are taking the first tentative steps in that journey. Says Manz: "You have to learn to walk before you can run."
Best wishes,
Jon Markman