There is a revolution underway. You can't see it. You are not supposed to. But it's happening, and the implications are profound.

Credit Amazon.com (AMZN). The online giant changed the way customers think about logistics. It demands tracking and accountability, efforts that are trickling down the supply chain — forcing new business models and a torrent of software development.

It's all good. Tighter supply chains mean happier customers, and ultimately fatter profits. It also means a big, new opportunity for investors looking in the right places.

In the past, investors have sought the simple solutions. If the need was quicker package delivery, giant logistics companies like FedEx (FDX) and United Parcel Service (UPS) benefited. This time, it's more complicated. This is about wringing out inefficiencies in the supply chain.

In July, Bloomberg reported Wal-Mart (WMT), the world's largest retailer, would begin punishing suppliers who delivered products too early. The new policy, called "On Time, In Full" (OTIF), aims to reduce inventories at its network of 150 distribution centers. This will leave it nimbler and more profitable. Wal-Mart believes the program will save $1 billion annually.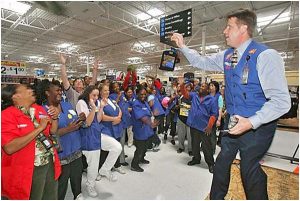 Suppliers are less enthusiastic. They see the new program as the latest effort to push standards that help Wal-Mart's bottom line, at their expense. In the 1980s, the company forced the transition to universal bar codes. Those who refused to comply lost their contracts.

OTIF is a bigger ask.

The entire supply chain needs to rethink the way merchandise is procured and shipped. Loading it onto a truck and telling the driver to go, will not do. This will require new business models. It will mean new software.

That is the big opportunity for investors. OTIF is as big as barcodes and potentially more lucrative because the number of players capable of facilitating the change is limited. They are going to win big as everyone comes knocking at their door, at the same time.

Consultants will be winners. This is a Herculean task and there are only so many companies with the resources and scale to get into the weeds. Given the nature of supply chains, they will need a global footprint. They will need many levels of expertise.

Supply chain software development is an even smaller club. Bart DeMuynck, a supply chain analyst at Gartner, told the Wall Street Journal he expects larger software companies to gobble up smaller players as they get ready.

The good news is some of these companies are public. One firm I track has been in the sector since the 1980s. Its platform is already widely used and it is moving aggressively into real-time, supply-chain management. Talk about prescient.

Its software tracks goods from the moment they leave the factory in China, through shipping channels and the myriad of red tape, to the package delivery companies. The platform upgrade will make this all transparent, in real-time.

In the age of Amazon.com, and the era of OTIF, it's a service all parts of the supply chain are certain to embrace. And it will demand a premium price.

Finding these opportunities at companies like little known but powerful small-cap Descartes Systems Group (DSGX) involves a lot of behind the scenes research and fact-finding. It's like walking into a meat processor and seeing how the sausage is made. Then discovering just a few companies that design and build all of the equipment.

The rules are changing. And it is a huge opportunity for investors who understand where to look.

Best wishes,

Jon Markman
P.S. We've just received word from our founder, Martin Weiss, that he's rushing home from Asia to lead an emergency conference online this coming Tuesday, September 12. Senior Analyst Sean Brodrick will also be joining him. The topic is their stunning prediction for October and how you can turn it into a tremendous wealth-building opportunity. As a loyal subscriber, there's no cost to you. But to get instructions for attending, you do have to register. You can do that here.