Investing
Don't Hitch Your Fortunes to Tesla's Electric Truck
It's crazy.  Elon Musk has built a semi truck that can accelerate from 0-60 mph in 20 seconds while hauling a 40-ton load.
Think that's impressive? Well, set the cab free of its trailer, and the beast can go from 0-60 in 5 seconds!
That blows away classic speed demons like the 1969 Chevrolet Camaro ZL-1 and the 1969 Chevrolet Corvette Sting Ray (Turbo Jet). Not to mention the 2016 BMW 328i and the 2007 Aston Martin V8 Vantage Roadster.
Last week, Musk, the co-founder of Tesla (TSLA), unveiled a futuristic transport truck that seems too good to be true. It's electric, insanely powerful and way more cost-efficient than the best diesel models on the market.
Fleet buyers are racing to reserve vehicles. Investors should be running in the opposite direction.
Undoubtedly, Musk has noble intentions. As a staunch environmentalist and scholar, he believes the world must move away from dirty fossil fuels.
Making ridiculously cool (and fast) electric vehicles is Musk's way of proving the transition doesn't have to be fraught with compromises.
The semi truck he showed off last week is a no-brainer for the trucking industry.
The electric drivetrain and braking system are mostly maintenance free, and they're guaranteed for 1 million miles. The windshield is indestructible. The range, under maximum load, at highway speeds, is 500 miles.
The driver's seat is mounted dead center, giving the operator maximum visibility, and negating the need for costly right-hand steer retrofits.
Solar is clean, abundant and becoming more cost-effective every day. And Tesla, through its network of solar-powered mega-chargers, will lock in a fixed-rate for electricity at 20% below the per-mile-cost of diesel fuel.  
Inside the cab, the semi's Advanced Autopilot software automatically keeps the truck in its lanes and at a safe distance from other vehicles. And it will safely stop the vehicle if the driver becomes incapacitated.
The software can also link-up multiple trucks in a convoy.  Musk claims this makes truck transport more cost-efficient than rail.
The Tesla semi pulls the trucking industry into the future.
Despite this, most investors should run away from the stock.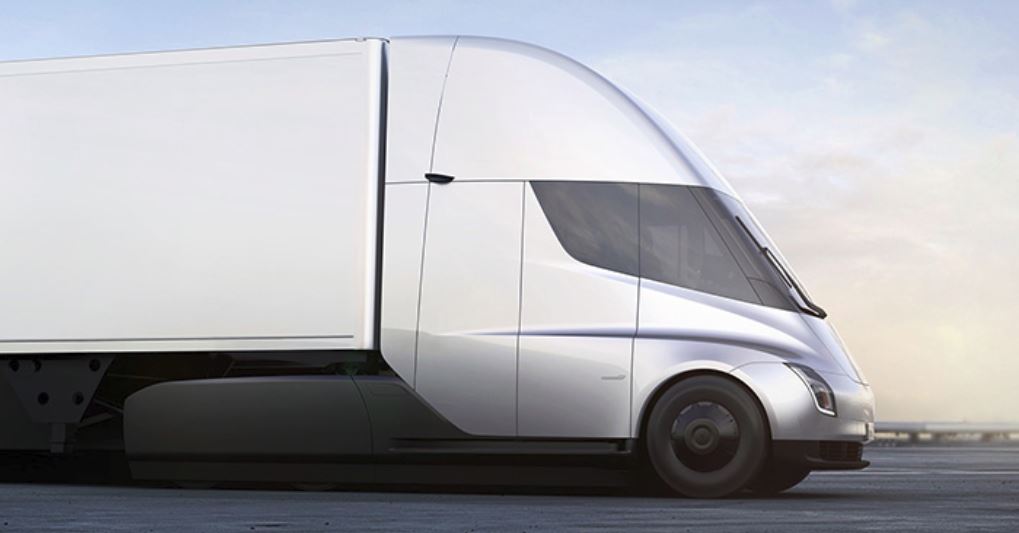 Fully loaded, Tesla's new semi truck can travel 500 miles on a single jolt from a solar-powered charging station. Source: Tesla.
Elite stocks share common traits. They represent focused managers building market share and diligently leveraging competitive advantages.  The result is powerful cash flow and high operating margins. Tesla, as a company, has demonstrated none of these traits. 
Since its IPO, shareholders have seen massive dilution.  It has always been unprofitable. In fairness, making cars from scratch is complicated.  It requires a huge upfront investment.
However, Tesla is not only building a new platform.  It's aggressively adding costly capacity, and simultaneously pushing automation to new heights.  If the strategy works, its factories will build vehicles faster and more cost-effectively than any factories in the world. Operating leverage would be unprecedented.
If it fails, the entire capital structure is at risk.
In the past, Tesla simply raised additional capital.  The investor class has always thrown money at Elon Musk.  He exudes visionary leadership. Like Steve Jobs before him, he knows how to tell a great story … with a happy ending.
His own biography is a testament to abilities.
At 24, he dropped out of the applied physics and material science Ph.D. program at Stanford to work on Zip2, a web software firm he started with his brother, Kimbal.  In 1999, that company was sold to Compaq for $307 million.
The same year he co-founded X.com, a company that later became Paypal (PYPL).  In 2002, the consumer finance company was acquired by eBay for $1.5 billion.
Since then. Musk has built Tesla, and SpaceX, a successful rocket company. In his spare time, he works on high-speed vacuum systems, giant subterranean tunneling machines, and brain implants to merge humans with artificial intelligence.  Forbes says he's worth $20 billion.
While his personal story is compelling, investors are wrong to conflate it with Tesla shares.  The best stocks are usually fast-growing companies with proven business models and low-profile leaders.   
For example, I have been recommending the shares of a payments processor to my members.
Since its IPO, the company has enjoyed consistent revenue and earnings growth. Its return on equity expanded every year except one.
And when the company is not increasing its dividend and buying back shares to increase shareholder value, it's plowing gross profits right back into the business.
It is now investing aggressively in tokenization, the technology behind digital payments like Apple Pay and Android Pay. Shares are up 957% in less than 10 years.  The compound annual growth rate is 25.35%.
Its business is not dependent on celebrity or on memorable shows. Its secret is operational excellence. And that's a secret Musk and his executive team have yet to learn.
Best wishes,
Jon Markman