Apple
Automakers Set To Monetize EV Screens
From electrification to new mobility models, the automotive business is in a state of flux. Yet the biggest disruptor is coming out of left field: interior display screens.
Last week, analysts at Morgan Stanley (NYSE: MS) argued that those screens represent an important new ecosystem. The researchers believe control will give global automakers a big new revenue stream.
It's tough to wrap your head around the concept. Car company executives were grinning ear to ear when Elon Musk said Tesla, Inc. (Nasdaq: TSLA)'s electric vehicles (EVs) would revolutionize automobiles.
The legacy managers didn't believe underpowered, whining electric cars could be remotely competitive with their gas guzzlers.
Then, Tesla made a car that was more fun to drive and had an always-on network connection, uniquely well suited for the new digital era.
Eventually, product managers in Detroit, Berlin and Tokyo took notice by starting to develop their own electric vehicles.
Related Post: Sleek, Fast Electric Vehicles Ready To Go Mainstream
Aside from the new flashy looks and concepts, what's most noteworthy are the screens on the dashboard.
Always-on connectivity will drive the transition to needed software-based infrastructure, and those screens will help compete with futuristic Teslas while paving the road to a new business model ripped off from the maker of iPhones.
The Apple, Inc. (Nasdaq: AAPL) business model thrives because the company gets a tidy cut of everything that runs on or works with its devices.
Software developers pay 30% of all sales, even on the business that is generated inside the applications. And the Cupertino, California-based consumer electronics giant gets licensing fees from companies that make compatible chargers and plugin devices, too.
The combination was a $25 billion business in 2020, according to a report at Forbes.
Now, automakers have a similar vision.
All that potential revenue is very appealing, especially considering the potential loss of sales volume as potential younger buyers choose alternatives like ride-sharing and ride-hailing.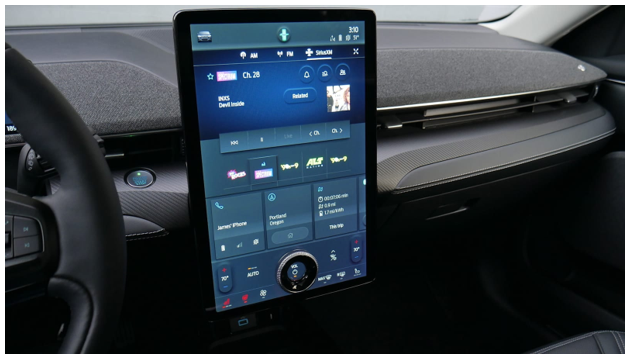 Caption: 2021 Ford Mustang Mach-E's 15.5-inch touchscreen, Source: autoblog.com
Morgan Stanley researchers note that managers at Stellantis N.V. (NYSE: STLA), a company formed by the marriage of Fiat Chrysler Automotive and Groupe PSA, are working with Foxconn on infotainment cockpit solutions.
According to a press release from May 18, the companies formed a joint venture to develop biometric recognition systems, augmented reality, intelligent assistant mobility, as well as predictive maintenance and over-the-air software update capability.
The corporate presentation puts the road map in focus.
The maker of Peugeot, Alfa Romeo, Fiat, Maserati, Dodge, Jeep and Ram Trucks, among other brands, is teaming up with the same company that assembles iPhones to build a scalable, seamless user experience between smartphones and the screens in next-generation cars and trucks.
The goal is to control content streaming, data integration and build models to understand user behavior for profile analysis.
Stellantis and Foxconn want to revolutionize vehicles the same way Apple revolutionized the smartphone … and it's a big monetization opportunity.
This thesis was the basis of another Morgan Stanley research report last week.
In a note to clients Wednesday, analysts said Ford Motor Co. (NYSE: F) managers correctly understand next-generation vehicles represent an opportunity to collect valuable data and rent "mobile real estate," a new buzzword.
Again, the most fitting analogy is with iPhone screens. The analysts note that these 15 square-inch screens have become the gateway to a multitrillion-dollar marketplace.
Related Post: Tesla Is Winning the Race for Autonomous Vehicles
The big car companies have the scale and market share to monetize the glitzy screens that will adorn future EVs. And there is every reason to expect execs will exploit this competitive advantage.
The idea of another set of ecosystems collecting and monetizing personal data may not appeal to some. Perhaps this is the reason Apple managers seem so fixated on getting into the car business. Apple has cleverly weaponized privacy.
Yet there is little doubt the likes of Ford, General Motors Co. (NYSE: GM), Stellantis and Volkswagen AG (OTCPK: VWAGY) will be big players in that connected platform.
All of these stocks are attractive into market weakness, but remember to do your own due diligence before buying anything.
Investors should closely pay attention to new purchases as cars transition from raw transportation into advanced mobile media experiences.
Best wishes,
Jon D. Markman