Disney
Disney+ Proves Streaming Market can be Shared … For Now
Disney (DIS) rolled out its highly anticipated streaming video-on-demand service Tuesday.
There were some issues …
Within hours of the Disney+ debut, the SVOD service was plagued with outages and busy customer service queues. New customers were justifiably irate, according to reporting from Recode.
Ironically, Disney executives underestimated the monumental task of streaming its huge content library to millions of new customers on day one.
To pull it off, they made a huge investment in BAMTech, the streaming technology company behind Major League Baseball, Fox Sports, HBO, and WWE. In total, the House of Mouse spent $2.6 billion to take control of the New York streaming media specialist. Optimism was high.
CEO Robert Iger tweeted last week that the service was ready to scale to big numbers.
When the company flipped the network switch Tuesday, however, new subscribers were greeted with connection error messages featuring popular Disney animated characters. Wreck-It Ralph, from "Ralph Breaks the Internet," was particularly poignant.
To be fair, despite management assurances, some pain points were expected. Those are natural at launch. The oddity is how poorly Disney dealt with customer service issues.
Call centers were hopelessly bogged down most of Tuesday and software applications directed customer complaints to web forms — a very 2008 solution.
The rollout strategy is even stranger …
Disney managers chose to force most of its new SVOD customers to download and install software at launch. For example, no Disney+ applications were previously available for Android, Samsung and LG smart TVs.
These execution errors are glaring, given the competition.
Netflix (NFLX) manages to flawlessly deliver content to 160 million subscribers across platforms as diverse as game consoles to Roku (ROKU) streaming sticks.
Disney+ does have its good points, though.
There is a lot of high-quality, compelling content.
Many young parents will get their money's worth for the children's programming alone.
And its hoard of action and superhero films will keep millennials buzzing.
But the fledgling SVOD is not the Netflix-killer many thought it would be. At least, not yet.
More than 30 new movies and hundreds of hours of new serial programing is coming to Netflix in December. Much of it, like "The Two Popes" starring Antony Hopkins, or "Marriage Story," featuring Scarlet Johansson, are geared toward older viewers.
Disney+ and Netflix can comfortably coexist because they are complementary, both in terms of content and technical proficiency.
Currently, the big SVOD stocks are being priced as though the market is a "winner take all" setup. That is a mistake, in my opinion. There is ample opportunity for many players, including Peacock, an ad-supported streaming service coming from Comcast (CMCSA) next year.
Related post: TiVo to bring the future of streaming
But this "share the market" phase of SVOD can't last. The opportunity for investors comes in the next phase.
And this stock looks best-positioned to benefit …

The Trade Desk (TTD) is a leading programmatic advertising platform. As more media content moves toward an SVOD model, the odds are good many services will eschew subscriptions in favor of ads.
This will be phase two.
It makes sense. Repopulating the marketplace with paid SVODs simply repackages pay TV. Consumers only have so much money to spend. The odds are they will eventually shift viewership to ad-supported networks.
That's where Trade Desk shines.
eMarketer, a digital advertising research firm, predicted programmatic ad spending will reach $45.7 billion by 2019.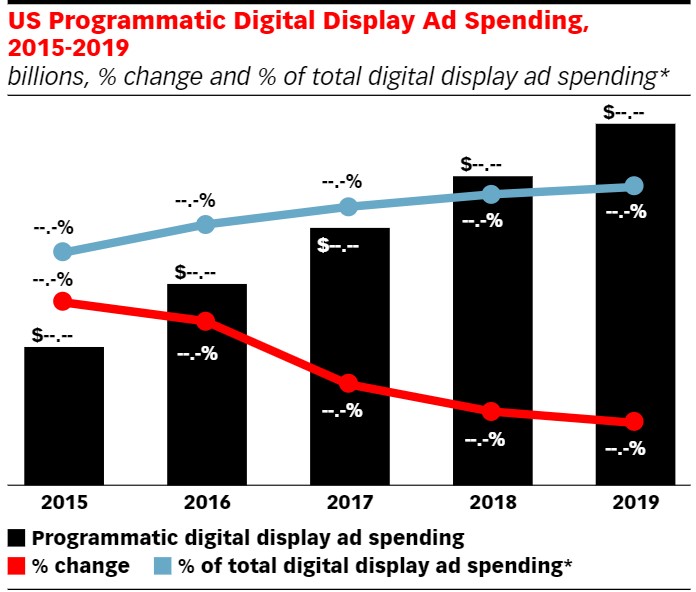 Source: eMarketer
Amazon.com began staffing up to sell digital advertisements on its connected TV platform last year, according to a December 2018 report from The Information.
Even Netflix, a company that has resisted advertising thus far, may seek that business model, according to Trade Desk CEO Jeff Green.
Green explained during a Recode podcast that ads will allow the streaming company to expand its footprint into countries with lower per-capita income.
This is happening in China right now. Last November, Trade Desk signed digital advertising deals with Alibaba (BABA), Baidu (BIDU) and Tencent (TCEHY), the largest internet companies in the country.
The deals allow Trade Desk's clients use those three platforms to reach their massive combined audiences.
This Ventura, Calif.-based company has proven itself a pioneer and innovator in the digital advertising space. It offers clients the means to create, manage and optimize data-driven campaigns across ad formats and devices.
Trade Desk trades around $225 per share. And the company offers investors plenty of reason to believe that price can go a lot higher …
In the most recent quarter, revenues surged 50% to $119 million, and earnings per share jumped 86%.
More important, under Green, the company has a strong history of creating shareholder value.
Morningstar notes that shares have rallied at a compound annual growth rate of 104% during the past three years.
Shares trade at 62x forward earnings and 17.7x sales. Based on those metrics, the stock is expensive. But investors need to keep in mind the trajectory of the market, and growth rates at Trade Desk.
Many investors look at the streaming video landscape and see the challenges of bringing large content portfolios online and getting customers to pay a fair price.
Investors should see the potential for new business models.
My subscribers recently cashed out of Trade Desk with a nice 18.5% gain in just three short months. To get my timely buy signals sent straight to your email box every week, consider joining me in my premium Tech Trend Trader service. Just click here to get started.
Best wishes,
Jon D. Markman