Cloud Computing
Disney Set to Dominate Next-Gen TV Entertainment
The streaming media and live TV worlds are colliding.
This is the key takeaway from ComScore's State of OTT — that's "over the top" — June 2019 presentation.
This media analytics company set up measuring devices across 8,000 U.S. households to spot industry trends.
What analysts found was shocking. It's a wakeup call for investors.
Netflix (NFLX) defined the rise of over-the-top media. Born as a mail-order DVD rental company in the 1990s, a direct-to-consumer business model was in its DNA. Going "over the top" of traditional teleco, broadcast and cable TV platforms was a natural evolution.
And it worked.
The Los Gatos, Calif.-based streaming media giant amassed 137 million subscribers by letting people watch what they want, when they wanted it … and on whatever screen they had handy. For a long time, that strategy seemed like it might be enough.
ComScore analysts found that 75% of the 64 million U.S. OTT households had Netflix subscriptions. The next closest competitors were YouTube, Amazon Video and Hulu, with 55%, 44% and 32%, respectively.
However, Netflix market penetration increased only 2% year-over-year, according to ComScore. It's now clear consumers want everything on demand. And that includes live TV.
One of the oddities of the growth of OTT media consumption is that 65% of households maintain cable/satellite subscriptions. Rumors of the death of cable TV at the hands of Netflix are greatly exaggerated.
The cable companies should worry about Alphabet (GOOGL) and Disney (DIS). Through YouTube TV and Hulu, the companies are moving aggressively to give media consumers the best of both worlds.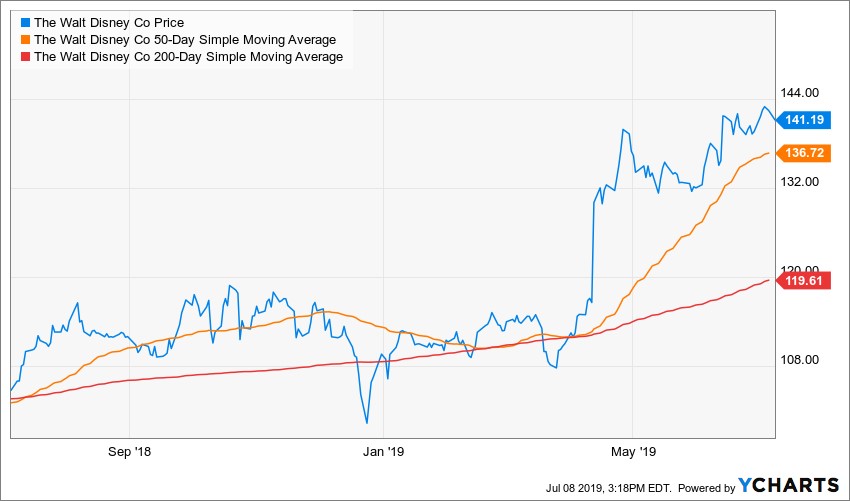 Disney shares are up 29% this year, and are at an inflection point with the company having the right technology, content and ambition to take on Netflix and the cable companies.
YouTube's live TV offering began rolling out in 2017. The big idea was to bring users the same glitch-free streaming YouTube mastered during the past 13 years. Beyond that, YouTube wanted to give them access to 70 live TV channels, including local news and sports; search powered by Google; and six individual accounts, so family members can build TV experiences geared to their individual interests.
Mom, dad and the kids can even save favorites to a free personal DVR cloud that Cnet called the best in the business.
And Google Assistant — the company's voice-activated, personal digital valet — is being carefully weaved into the platform, too. Imagine never again scrolling through antiquated TV guide menus, or digging the remote out of the sofa cushion to flip the channel.
Disney announced a $53 billion agreement to merge with 21st Century Fox in December 2017. The deal wrestled control of the third-largest movie studio, the Fox TV network (minus cable news), and FX and National Geographic — two rising cable networks.
The new House of Mouse is building the biggest media empire ever assembled, with everything from the "Star Wars," Marvel and "Avatar" film franchises, to "The Simpsons," the longest running TV show.
Most of that content goodness, along with the massive Disney animated film catalog, is being packaged as digital streaming channels, to be sold as a monthly subscription. At $6.99 per month, it's just over half of the cost for a standard Netflix account.
But the real action is behind the scenes.
Disney acquired in October 2017, a 75% stake in BAMTech, a streaming media technology company originally formed by Major League Baseball. The tiny New York company mastered high-volume live streaming with proprietary algorithms.
The company put together a streaming platform for HBO in a matter of months, according to a New York Times story. The software went live just ahead of the season 5 "Game of Thrones" premiere, the most viewed show on TV. It worked flawlessly.
Variety reported in May that Disney was taking full control of Hulu. The $5.8 billion deal with Comcast (CMCSA) followed an agreement with AT&T (T) in April to scoop up its 10% stake in the streaming business.
Hulu offers 85,000 TV shows and movies on demand, with ads for $5.99 per month; an ad-free subscription for $11.99, and a live TV service with 50 channels for $44.99 monthly.
ComScore analysts call this category a virtual "multichannel video programming distributor." That's because providers get all the benefits of cable providers, without owning the infrastructure. The internet is the distribution channel.
Virtual MVPDs had 5% of the U.S. market in April 2018, a 58% increase year-over-year, according to a research note. Hours spent viewing programming jumped 53%. And the demographic of users is beginning to skew older.
This suggests the category is moving toward mainstream adoption.
Disney shares are at an inflection point. The company has the right technology, content and ambition to take on both Netflix and the cable companies.
The stock trades at 22x forward earnings and 4x sales, for a market capitalization of $256 billion. While the stock is up 29% so far in 2019, the valuation is not extreme. Netflix shares, for example, trade at 65x forward earnings and 10x sales.
Disney's core streaming assets are better, growing faster and the prospects are better.
Shares recently traded at $141.20. The stock could certainly trade to $215 during the next three years, or about 52% above current levels.
For growth-at-a-reasonable-price investors, Disney is a buy into any weakness.
Best wishes,
Jon D. Markman