Investing
Every Company is Now a Tech Company. It's Time to Invest Accordingly
Something big is happening. The very nature of commerce is changing. And it is happening fast.
This week, The Wall Street Journal ran a story about Samsung's capital spending. In 2017, the Korean tech conglomerate spent $44 billion to expand manufacturing. That's more than ExxonMobil and Shell spent, combined.

Investors need to understand this landscape …

Today, every company is a technology company. The ones that learn this quickly will flourish.

Find them. Invest in them. And get ready for what promises to be an incredible ride.

For example, it would be easy to dismiss Samsung's investment as cyclical. Yes, the company does need to gear up for a world of connected gadgets. However, the key is the scale.

Samsung is betting that data and processing speed is the future of all commerce. It's a good bet. 

In 2001, the largest U.S. corporations by market capitalization were General Electric (GE), Microsoft (MSFT), ExxonMobil (XOM), Pfizer (PFE) and Citigroup (C).

At the time, that was a nice cross-section of the American economy — industrials, tech, energy, pharmaceuticals and banking.

Today, Apple (AAPL), Alphabet (GOOGL), Microsoft (MSFT), Amazon.com (AMZN) and Facebook (FB) are the most-valuable public companies in America.

They are all tech companies. They owe their exponential growth to data manipulation and processing advances. It is an advantage they continue to press with massive new data center projects.

But this space is filled with some surprising names that are ready to make their way onto this list …

Last year, Peter Ferris, an executive at Equinix (EQIX), said his company spent $17 billion building company data centers over its 18-year history. By his estimation, Google, Microsoft and Amazon.com are spending $10 billion every year. Apple and Facebook are spending big, too.

These companies are leveraging their strengths. And they have an eye toward taking market share in other parts of the economy …

Apple and Alphabet have staked claims in the future of autonomous vehicles.


Amazon is pushing beyond online retail and web services. Company managers are making a play to dominate digital assistants. Developers have widely adopted its Alexa operating system. It's showing up in washing machines, inside cars and even on Windows computers.


Microsoft is working with the financial services industry on Blockchain and other cryptographies.


And Facebook is slowly eating all of mobile, the current computing platform of choice.

Meanwhile, yesterday's dominant companies are flailing. They are trying to stay ahead of disruption by embracing technology like never before. Recently, the WSJ noted that "chief information officer" titles now offer employees the quickest route to becoming CEO.

It's a crazy time. Now, executives at Ford (F) and General Motors (GM) worry more about what is coming out of Silicon Valley than Tokyo.

For my newsletter members, it's no secret that a significant transformation is underway. In addition to buying every dip in the shares of technology leaders, we have been looking for "old economy" companies that are quick to adapt.

One of these companies, Malibu Boats (MBUU), makes performance watercraft. It is a market segment most investors know nothing about. But it's lucrative, and fast-growing.

People have been waterskiing behind boats for 50 years. But only three years ago, data analytics helped the company design boats that create larger waves.

The engineers then embedded sensors in the haul and built an onboard control system to help enthusiasts get the most out of the technology — like surfing behind the boat without a rope attachment. It's cool technology. (You can see a short video about it here.)

Every year, the company aims to release new products and strengthen its dealer network. The vertical integration gives it tighter control over the user experience, and more power over margins and average selling prices. It's fitting. It's a page right out of Apple's playbook.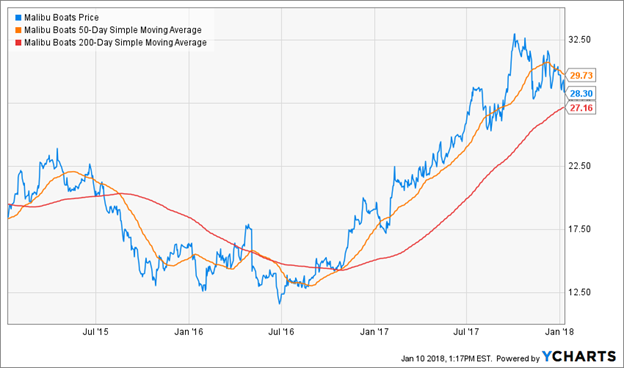 Malibu Boats' shares are making waves, too.
MBUU is up 54% year-over-year.

But the key advantage is the wave-making technology. It's cutting-edge, proprietary, and saleable to other sports boat makers. Licensing revenue is soaring.

This is not a coincidence. Many other companies are making technology central to their business models …

During the last 10 years, consumers bought billions of smartphones. The result is a collapse in the price of sensors and processing. Industries need to take advantage of the spoils, or else they will be disrupted by some hungry startup company with a big idea.

Samsung sold 1.895 billion smartphones since the introduction of the Galaxy in 2009. It played a major role in the democratization of the mobile technologies driving so much modern innovation. The scale of its new investment is another shot across the bow of the status quo.

This is a real wave of change. And it is barreling toward the shoreline.

And a bunch of nimble companies will take advantage. Be prepared.

Best wishes,
Jon Markman