The Killer App of the Gig Economy
Very soon, picking up extra work may be as easy as tapping your smartphone to call an Uber.
The Financial Times reported Thursday that Uber Technologies (UBER) is ready to launch a new service that would pair temporary workers with businesses.
Uber Works would extend the gig economy stalwart into temporary services, while highlighting the versatility of its software platform.
Uber has had a tough time since its highly anticipated May Initial Public Offering. When investment bankers began pitching this IPO in 2018, many started throwing around valuation prospects north of $120 billion.
This figure would have made the unprofitable ride-hailing juggernaut worth more than the combined values of Ford (F), General Motors (GM) and Fiat Chrysler (FCAU).
As the IPO came closer to reality, the optimism faded.
As enthusiasm among institutional investors waned during the roadshow, the IPO fell to only $82 billion. Shares got another haircut on the first trading day. The valuation fell to $76 billion. Five months later, Uber stock is down 28%. Its market capitalization has flat-lined at $50 billion.
These numbers reflect a steady stream of bad news …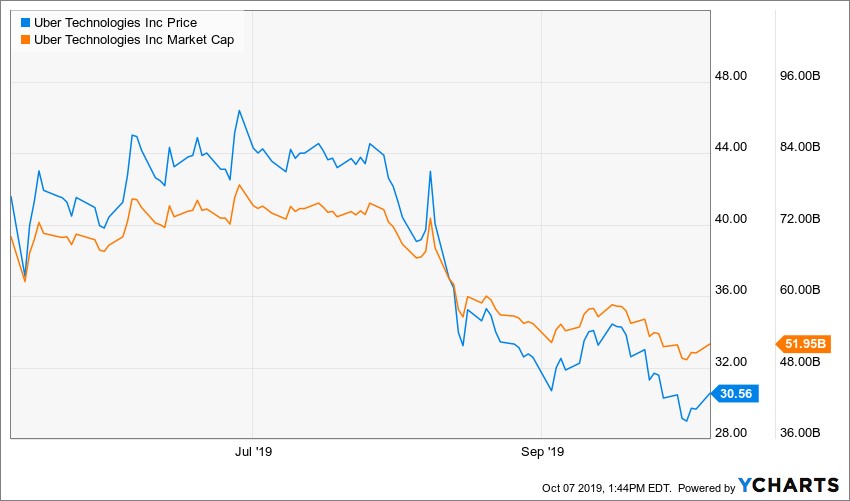 Uber shares are down 27% from their May IPO.
In August, the San Francisco company posted a quarterly loss of $5.2 billion. Its largest ever deficit was compounded by the slowest ever sales growth.
The "we will make it up in volume" message that seemed to work so well with private investors falls on deaf ears in the public markets.
Layoffs, random municipal regulations and California legislation to reclassify Uber drivers as employees, not independent contractors, didn't help, either.
The company laid off 435 product managers and engineers in September. This followed news that New York City councilors decided to restrict the number of eligible Uber and Lyft (LYFT) drivers, in an effort to stem city traffic.
The California reclassification, if implemented in January 2020, is especially ominous.
The New York Times notes that gig economy companies are built around flexible, inexpensive and independent labor. In the Golden State, Uber and Lyft employ hundreds of thousands of these contractors.
But Uber Works could turn this ride around.
It's a logical extension of Uber's platform: Workers get the flexibility to work when they want, mostly where they want. Employers get prescreened employees ready for work, without the hassle of paying expensive benefits.
Related post: Sky's the limit for Uber's ingenious mobility platform
There will be some red tape, though. Because Uber is partnering with TrueBlue, one of the largest industrial staffing companies in the U.S., employers will be required to pay payroll taxes.
However, the basic idea turns workers into a service.
In the same way Uber morphed transportation into a digital service that could be easily consumed, Uber Works will help employers quickly locate and staff clerks, chefs and industrial workers using software.
This could be a large opportunity for Uber …

Analysts note that the idea of alternative work has gone mainstream, particularly among millennials. Deloitte, the world's largest professional services firm, predicts that the number of American contractors, freelancers and gig-economy workers will soar to 42 million by 2020, a 3x increase since 2017.
Uber Works will be tested in Chicago first but is expected to expand quickly.
It's easy to dismiss Uber as an unprofitable taxicab business. But the business is more than that. It's a scalable, reliable software-based dispatch system for the entire world, complete with mapping, logistics and a robust payment infrastructure.
New businesses aside, Uber is the leader in every market it serves. It's also building considerable network effects as new users come aboard every day based on word of mouth.
That said, the investment play isn't for what the company is today; it's for what Uber will become.
In its short lifespan, the company has moved beyond ride-hailing to food delivery, freight, business travel, bikes, scooters and now temporary work.
I have been reluctant to recommend the stock because, so far, enterprise losses are accelerating while the regulatory environment is worsening.
Ultimately, both will stabilize.
Shares trade at 4.3x sales. That's not super-expensive given the scale of Uber's network and the potential to move to other markets.
Uber is a stock that should be on your radar.
To learn more about the stocks that are on my radar right now, join me at 2 p.m. Eastern on Tuesday, Oct. 8. I'll be telling my publisher, Dr. Martin Weiss, all about my system for picking high-profit-potential tech trades. It's easy to attend. Just click here just before 2 p.m. tomorrow. See you there!
Best wishes,
Jon D. Markman