Amazon
Microsoft Was Built for the COVID-19 Crisis
Put your hand up if you knew Microsoft (MSFT) was going to be a huge winner in the pandemic.
I knew that it would do well, but I didn't think others would do so poorly.
The Redmond, Wash. software giant announced Monday that its cloud business saw revenues rise 775% in regions that have embraced social distancing. It turns out working from home is a boon for companies that provide IT infrastructure.
The good news for you as an investor is that this monster trend is only getting started.
Our service has featured a position in Microsoft from the start. I added shares originally because Azure, its cloud computing business, was the only legitimate rival to Amazon Web Services. Together, the firms have locked down enterprise and non-profit customers making the transition to cloud computing. This overall shift is expected to be worth $623 billion by 2023.
The appeal is the promise of reduced costs. In theory, cloud clients get to focus on managing workloads and software. They get to make changes quickly and move with the flow. All the concerns about hardware upgrades and infrastructure are abstracted away by the cloud firms.
At least that's how it's supposed to work.
The reality is that these cloud customers find themselves locked into ecosystems that become more expensive over time because of the high cost of migration, talent and the systems needed to run workflows efficiently across multiple platforms. Worse, after the initial investment, many clients feel there is no cost-effective way out.
In other words, it means that AWS, Azure and the other large cloud infrastructure providers are essentially trapping current customers into their system with no practical way out. This is huge for future profits.
According to Canalys, an independent market research firm, cloud infrastructure spending accelerated to $80 billion in 2018, up from $55 billion only a year earlier.
Another research firm, IDC, noted that Infrastructure-as-a-Service had an average compound growth rate of 33.7% over five years, making it the fastest growing segment in cloud computing.
Related Post: Microsoft's Scale is Winning the Cloud Race
Scalability is the biggest reason so many companies are moving to the cloud. Clients pay for data processing, storage and bandwidth as needed. That's been a huge plus in the uneven era of COVID-19.
Think about this, only two months ago, the current scale of the work-from-home movement was unimaginable. On-site servers would have been overwhelmed by the demand. Luckily, Azure and AWS have been able to keep pace. And now we are beginning to see some of the fruits of their investment playout in corporate statements.
There were few people that actually thought AWS and Azure would be big winners in the COVID-19 crisis. However, the companies were able to combat troubles by being well managed and because they were built to take advantage of rapid changes in their clients' business models.
Related post: New Boom in Telecommuting Ushered in by COVID-19 Chaos
Currently, Amazon is up 3.3% YDT, while Microsoft is only down 1.3%. With this said, let's remember that the S&P 500 is currently down over 22% YTD.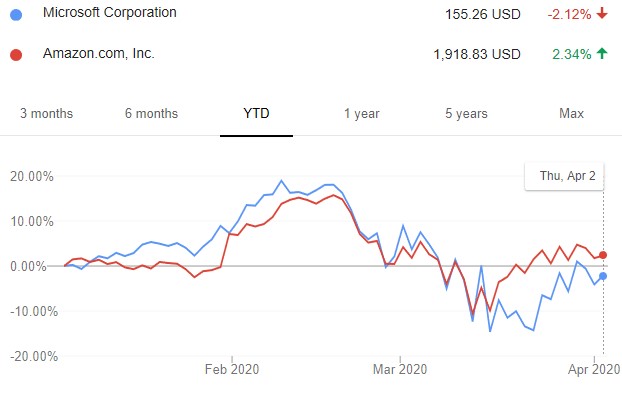 Microsoft is represented by the blue line, Amazon by the red. Source: Google Finance
Investors should buy Microsoft into major declines. After all, it is only going up from here.
Best Wishes,
Jon D. Markman