Cloud Computing
MongoDB Is Ready to Surge Again
We are at the beginning of a new trend toward widespread digital transformation.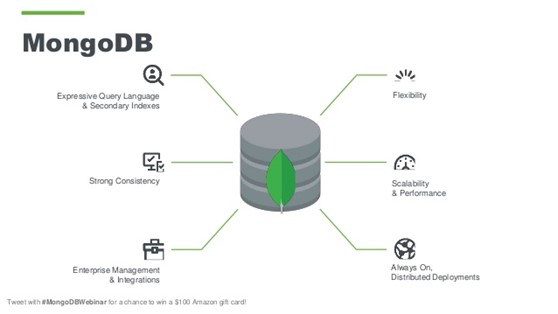 Source: Slideshare
One company investors need to keep on their radar is MongoDB, Inc. (Nasdaq: MDB, Rated "D+"). It's a cloud-based, next-generation database platform.
Shares pulled back recently following their first-quarter earnings report and the current weakness is an attractive entry point.
The company was founded in 2008 by Dwight Merriman, Kevin Ryan and Eliot Horowitz, the same trio that built and later sold DoubleClick to Google for $1.5 billion in 2005.
Related post: A New Leader in Next-Gen Data Emerges
In 2008, the cloud-computing revolution was in the early innings. Merriman, Ryan and Horwitz saw a big opportunity to build a new, disruptive database architecture from the ground up. It could be developer friendly and unmoored from legacy relational databases. It could also leverage the scale of the cloud, while embracing the trend toward mobile.
The timing was perfect. And now, business is surging.
CEO Dev Ittycheria told CNBC last March that its Atlas platform hit a $100 million run rate in less than three years and that the business is growing at 400% year-over-year.
It's difficult to put the potential into context; however, the total addressable market for data software is expected to reach $84 billion by 2022.
Mongo's main competitor is Oracle Corp. (NYSE: ORCL, Rated "B-"), the largest relational database company in the world. Its technology, although frequently updated, is still 40 years old. It predates cloud, mobile and even the internet.
Customers are flocking to Mongo. In Q1, the company had 780 customers with average annual billings of at least $100,000, up 30% from a year ago.
The versatility of its product suite has led to a who's who of customers. Companies like Alphabet Inc. (Nasdaq: GOOGL, Rated "B-"), Facebook, Inc. (Nasdaq: FB, Rated "B-"), Cisco Systems, Inc. (Nasdaq: CSCO, Rated "C+"), Adobe Inc. (Nasdaq: ADBE, Rated "B-"), Intuit Inc. (Nasdaq: INTU, Rated "B-"), PayPal Holdings, Inc. (Nasdaq: PYPL, Rated "B"), Verizon Communications Inc. (NYSE: VZ, Rated "B"), AT&T Inc. (NYSE: T, Rated "C-") and others all depend on the New York-based company to help developers build better products using data.
Shares recently traded near $230.00, and the stock is up roughly 74% in 2020.
Related post: Ingenious New-Age Database Maker Flies Under the Radar
Investors have been willing to pay a big premium because overall sales growth since 2017 has averaged 58%. Fiscal 2020 revenues, for example, surged 58% to $421 million.
Analysts expect the company will grab a big share of the database market going forward.
Based on sales growth alone, MongoDB shares could easily trade to $295 in 12 months, a gain of 31% from current levels. Investors should look to pullbacks for opportunities to get in now.
Best wishes,
Jon D. Markman