Alex Karp
Palantir IPO Looks Like an Intelligent Opportunity
Investors shouldn't pay too much attention to politics. It clouds their judgement. That said, something big is happening — a new political talking point is making the rounds on both sides of the aisle: Globalism is being undone.
On July 9, former Vice President Joe Biden announced a $700 billion economic plan. The Democratic candidate for President demanded that the future be "Made in America, all in America."
Thus, the message is clear: Supply chains are coming back to the United States.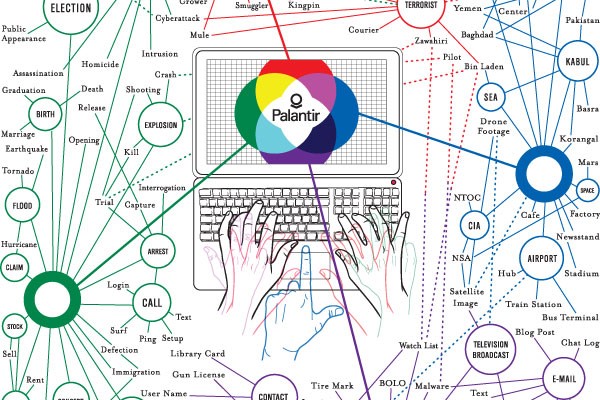 Source: Boldbusiness.com
Palantir Technologies is in the right place, at the right time.
The name might be unfamiliar. The Palo Alto, Calif.-based big data company isn't even public … yet. And Alex Karp, its chief executive officer, has made a point of clashing with commonly held Silicon Valley platitudes.
Palantir, as a company, is an unapologetic supporter of the working class, law enforcement and the intelligence community.
Palantir, in fact, was originally funded by the Central Intelligence Agency. After failing to make any headway with venture capital investors in 2003, the fledgling firm secured a $2 million investment from In-Q-Tel, a venture investment arm of the CIA. The only other seed money, $30 million, came from Peter Thiel, the co-founder of PayPal (Nasdaq: PYPL, Rated "C+").
Thiel thought Palantir could simplify counter-terrorism software in the same way PayPal made exchanging money online easier in the early days of the internet.
Gotham, Palantir's counter-terrorism software, lets intelligence analysts quickly find answers to complex questions without writing code or mastering statistical modelling. Imagine a Google search bar, but also with mountains of government and collected data to work with, too. Shipping logs and manifests, credit card records, customer lists and hundreds of other data points are all integrated, matched and catalogued.
Analysts then ask learned questions and get real-time responses. The information helps them perform their job faster and more effectively.
Related post: Big Pentagon Contractors Fight off the Correction
In 2010, then Vice President Joe Biden credited Palantir software for helping analysts at the Recovery Accountability and Transparency Board uncover fraud. A year later, CIA analysts used tools built on the same platform to find, track and ultimately kill Osama bin Laden.
Today, Palantir operates in 40 countries and has two additional platforms. One, called Metropolis, is being used by hedge funds and other financial institutions for timeseries analysis. The other platform is known as Foundry, and it was designed for use by enterprises for data integration purposes.
Karp claims Foundry creates innovation with jobs. In a 2018 YouTube video, he explained that Fiat Chrysler Automobiles N.V. (NYSE: FCAU, Rated "D") has 1,500 people using Palantir software. These people are not PhDs, yet they are able to use Foundry to determine what materials should be used, and for what applications. The result is better design, safer products and better margins for the company.
Protecting workers has become central to Palantir. After all, workers are essential. None of these functions can be performed by computers alone. Karp, who earned a PhD in philosophy, says Silicon Valley is growing wealthier as it eats up every job on the planet with automation. Someone needs to stand with workers because without jobs, there is no democracy.
Last week, Biden echoed many of these same sentiments. He said America once rewarded work as much as it rewarded wealth. Now, only excessive wealth is rewarded as jobs are destroyed. The presumptive Democratic nominee also advocated for a supply chain review that mandates products purchased by the Federal government be made in the United States.
The shift is striking. Both parties have moved away from free trade and globalization toward protecting American workers and struggling domestic industries.
Palantir is not a public company, but that may change as early as this week. Two days before Biden gave his economic speech, the company filed a confidential registration with the Securities and Exchange Commission for an initial public offering.
In the past, BlackRock (NYSE: BLK, Rated "C+"), Tiger Global Management, Fidelity (NYSE: FNF, Rated "C-"), Morgan Stanley (NYSE: MS, Rated "C"), Hercules Capital (NYSE: HTGC, Rated "C-") and others seeded Palantir with $2.6 billion, putting the value of the company close to $20 billion.
Bloomberg reported that Palantir had $739 million in sales during 2019, a gain of 25% year-over-year. Cash on hand at the end of the year reached $1 billion. Managers expect revenues will hit $1 billion in 2020 with the vast majority of its contracts being longer-term with almost no churn.
Those contracts are likely secure. Big tech competitors are vacating the marketplace.
Related post: CIA Spin-off Assists Effort to Lock Down COVID-19
After an employee revolt in 2018, Alphabet (Nasdaq: GOOGL, Rated "B") managers said the company would not renew its Project Maven agreement to develop AI imaging for a Department of Defense drone program. Amazon.com (Nasdaq: AMZN, Rated "C+"), Microsoft (Nasdaq: MSFT, Rated "B+") and other firms have backed away from working with law enforcement on facial recognition software.
Meanwhile, the same big tech companies are under attack from both the political right and left for anticompetitive practices.
Palantir has the preferred platforms, the political connections and the populist message to win everything. It's a rare and a potentially extremely lucrative opportunity.
Assuming shares do not begin trade 50% above the IPO price, investors should buy the stock. Palantir is set up for success.
Best wishes,
Jon D. Markman