Amazon
Playing, Watching & Even Talking About Video Games are Burgeoning Businesses; Here's How to Profit …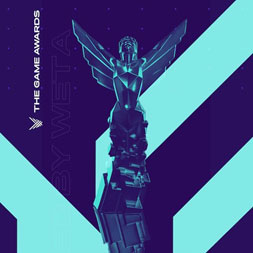 Even the video game industry gives out awards now. Here are my picks for the companies in this space that you can invest in. Image credit: TheGameAwards.com
Last week, the online video gaming industry put on a tuxedo and celebrated its bright future with an awards show, complete with long speeches, glitzy choreography and spectacle.
It was big. Epic, even.
In a world shrunk by trade wars and politicos, video gaming is unapologetically global.
Online video gaming is a huge part of internet culture. It is a big business, with entire ecosystems built around publishing and merchandising.
Game culture is so big in China that young children there are developing myopia. Bloomberg reported in September that the country's Ministry of Education set guidelines to help parent stop kids from hopping on their smartphones to play games.
According to state officials, children should spend 30-40 minutes using electronic products geared toward learning, followed by a 10-minute break for gaming.
Apparently, staring wide-eyed at a device for learning purposes does not cause nearsightedness.
The bigger picture is that China has become the biggest consumer of video game culture. It makes sense. In August, the China Internet Network Information Center boasted the country was home to 802 million internet users.
NetEase (NTES), a leading online community, and Tencent, the parent company of Epic Games, Riot Games, Supercell and Tencent Games, have built thriving franchises serving a fervent market.
Activision Blizzard (ATVI) looked east when it sought partners for its Overwatch League, a professional sports league built around the game "Overwatch." NetEase became a founding member and fielded the Dragons team in 2017.
The Overwatch League is built in the mold of traditional professional sports franchises. It has city-based teams, rich and famous owners, a regular season and playoff schedule, and highly paid athletes grouped into six-member units. They play "Overwatch," an online first-person shooter game.
And they attract an audience beyond just gamers.
Related post: Activision video games set to storm prime-time TV
The widespread appeal, and ramping prospects of video gaming as a spectator sport, has attracted a lot of savvy investors.
The San Francisco Shock is owned by NRG Sports. Its investors include the owners of the NBA Sacramento Kings and Shaquille O'Neal.
The Kraft Group, of the New England Patriots fame, is running the Boston franchise.
And the Los Angles Gladiators is owned by Kroenke Sports, the company behind the L.A. Rams, the Denver Nuggets and the Arsenal Football Club.
NetEase spared no expense marketing the Dragons. The eSports team has a flashy logo, professional merchandise and a young energetic team. Unfortunately, the Dragons were 0-for-40 in the 2017 maiden season. But who's counting?
Certainly not the early investors, who see big money in video gaming. They are not alone.
In 2015, Amazon.com (AMZN) got into a bidding war with YouTube for the rights to Twitch, a wildly popular online streaming site. The online retail giant eventually paid $970 million for a website where people congregate to watch others play video games. By January 2018, Twitch had more viewers than CNN.
Felix Arvid Kjellberg, a.k.a. PewDiePie, is a 28-year-old Swede. He owns the most popular channel on YouTube. Kjellberg's gig is color commentating as he streams video gameplay to his 75 million subscribers.
His channel has 18.2 billion views. In 2017, PewDiePie earned $12 million playing video games on YouTube.
Ryan Wyatt, global head of gaming and VR at YouTube Gaming, notes that 50 billion hours of gaming videos were viewed on the network during the past year. Venture Beat reports that every day, 200 million people view game content. These are people tuning in to watch other people play video games. And Wyatt says that 2018 is the biggest year ever for YouTube Gaming.
Online games were big winners at the Game Awards. "Red Dead Redemption 2," a Western-themed action adventure game from Take Two Interactive (TTWO) has become a global phenomenon. It won more trophies than any other title, including best narrative, best performance by an actor and best musical score.
The stock is down from $140 in October 2018. The market capitalization has shrunk back to $12 billion. This is a fair price for a company with a big catalog of video game titles, and that trades at only 20x forward earnings.
Consider buying Take Two shares into weakness.
Best wishes,
Jon D. Markman