5G
Renault's new limo is like a five-star hotel without a maid … or driver
Car shows are important, and not only in an escapist kind of way. They reflect culture. They show what is possible, what is likely.
The most-watched car show in the world kicked off in France yesterday. All the leading automakers are there. And all eyes at the Paris Auto Show are on Renault, which is showcasing the EZ-Ultimo — a self-navigating "Batman's limo" concept that wows on every level.
The race to autonomy is here. And it's going to be amazing.
EZ-Ultimo lives up to its name. It is a grand vision of the future, in which the ultra-rich are chauffeured in opulence befitting royalty. Natural materials like marble, exotic woods and fine leathers adorn its interior.
Ultimo is more five-star hotel than transportation.
Passengers sit adjacent to each other in luxurious loungers. There is no B-pillar for structural support; just a single glass door that lifts as riders present themselves.
The vehicle is a whopping 19 feet long, yet it comfortably seats only four. Everyone hates crowds.
The futuristic exterior, with its shining silver and glass, smacks of Gotham art décor. The mechanical bits — the Lidar, ultrasonic and camera sensors needed for self-driving — are hidden away. So are the wheels. Giant metallic discs mask the clever four-wheel steering system.
Ultimo is the final piece of the Renault autonomous vision. It sits comfortably alongside …
EZ-Pro, a last-mile logistics vehicle, and
EZ-Go, a utilitarian people-mover designed to make urban mass transit more livable.
Go can carry up to six passengers with sofa seating. It is summoned by a smartphone or software at kiosks located in public spaces. Riders enter through a large single-glass door at the rear of the vehicle, making it accessible for wheelchairs and baby strollers.
The Pro concept is much more ambitious. Renault sees the vehicle as part of an electric pod system — perfect for package delivery, food trucks and even mobile grocery stores.
When appropriate, multiple reversible, autonomous units — each with a human technician — can connect like a train to conserve energy, or go their separate ways, as a mobile concierge service.
Ultimo, Go and Pro share the same styling, electric battery and suspension systems. But what they say about socioeconomics is more significant.
For all the talk about inclusiveness, the future, like today, will be bifurcated.
Many of the innovations being promised to consumers today will not reach the masses anytime soon. They are intended for a specific, limited market.
For example, Nvidia (NVDA) makes expensive hardware capable of bringing current vehicles to full, level 5 autonomy. The Drive AGX system is a high-performance, energy-efficient computer designed to be the brain of self-driving vehicles. It packs two Xavier processors, two next-generation GPUs and is capable of running several deep neural networks simultaneously.
It is a powerhouse. It is also too expensive for the mass market.
The target market is autonomous taxis, and extremely high-end vehicles, where the technology will wow the rich and famous.
The real Nvidia self-driving car investment story is the transition. Its Drive AV software stack powers sensor path planning, localization and perception. These attributes are absolutely necessary for full autonomy. As automakers gradually introduce autonomy to their mainstream fleets, they are likely to license the technology.
Nvidia has 370 partners in auto-making, tier-1 supply, software development and research.
One of those partners is Aquantia (AQ). Most investors are unfamiliar with this San Jose, Calif., company. That's understandable, as it makes rather dull electronic components.
However, its integrated circuits for Ethernet connectivity over copper lines might be the bridge to the autonomous features that automakers want to bring to their vehicles.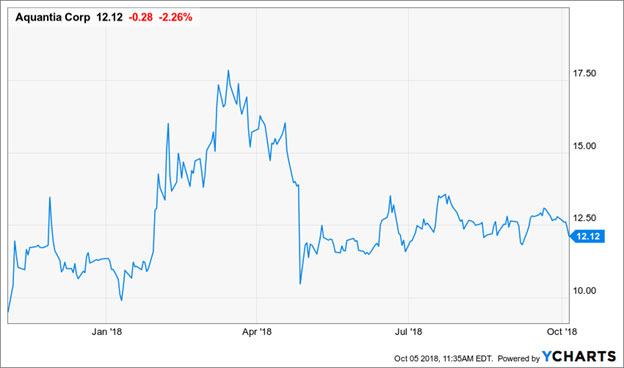 Aquantia is up 27.4% since its November IPO.
Faraj Aalaei, chief executive officer, claims the future of the company is making high-speed multi-gig network chips available for vehicles. It makes sense. Next-generation cars, with their constant connections and array of sensors, are data centers on wheels. They will need faster connectivity.
And carmakers are not likely to move away from copper electrical systems anytime soon.
The company has $433 million market capitalization. Like many semiconductor businesses, it has been hurt by negative sentiment emanating from the China-U.S. trade war. However, sales grew 19% in 2017, to $103 million. The forward P/E is 31.
Aquantia is a sleeper autonomous vehicle stock that should be on your radar.
Best wishes,
Jon D. Markman
P.S. Aquantia's "boring" integrated circuits for legacy internet connectivity are being pushed forward by 5G — wireless networks that are 20 times faster than we have today, which are rolling out years ahead of schedule. Read more about it in my article, "Why 5G networks will be a game-changer."