AI
Sell, Don't Buy, the Strength in Semiconductor Stocks
Five U.S. senators responded Tuesday to a complaint from Microsoft (MSFT) lawyers asking for clarification about the U.S.' ban on Huawei Technologies, which was introduced by executive order in May.Politics and big business are intersecting, and it's to the detriment of American technology firms.
The lawmakers' take: Huawei's alleged wrongdoing — espionage, technology theft and economic warfare — still poses a "real and urgent" threat. Therefore, U.S. companies should continue to avoid doing business with it.
In past years, Huawei has spent as much as $12 billion on U.S. hardware and software components. No wonder big tech companies are worried about permanently losing one of their top customers. But, as the conventional wisdom goes, lost business now beats having to forfeit perhaps entire markets down the road.
It wasn't supposed to be this way.
Tariffs and blacklists have been billed as tools to benefit American technology leaders … not hurt them.
The aim of the Sino-American trade war was to fix the wrongs of forced technology transfer and unfair trade practices that jacked up the prices of American goods and services.
Under the terms of current Chinese trade laws, U.S. businesses have been forbidden from direct ownership of plants and equipment.
Entry into that lucrative market involved establishing joint ventures with Chinese companies, and then transferring intellectual property to the new firm.
Some American companies played ball. Apple (AAPL), for example, designs its products in California but leaves most of the manufacturing to its Chinese partners. From there, the Cupertino-based company exports iPhones, iPads and Macs all over the world.
This kind of investment in China jumpstarted a massive new supply-chain infrastructure for consumer electronics. The world's factories moved to Shenzhen and Taiwan. The Chinese tech sector benefited handsomely.
Huawei famously began as a supplier of knock-off telecommunication switches. Today it is the world's largest telco equipment company, with sales of $100 billion in 2018. It's also a huge consumer of the bits and pieces necessary for large technology platforms.
Every year, according to a CNN Money story, this Shenzhen-based firm ingests some $11 billion worth of semiconductors, memory chips, integrated circuits, peripherals and software licenses.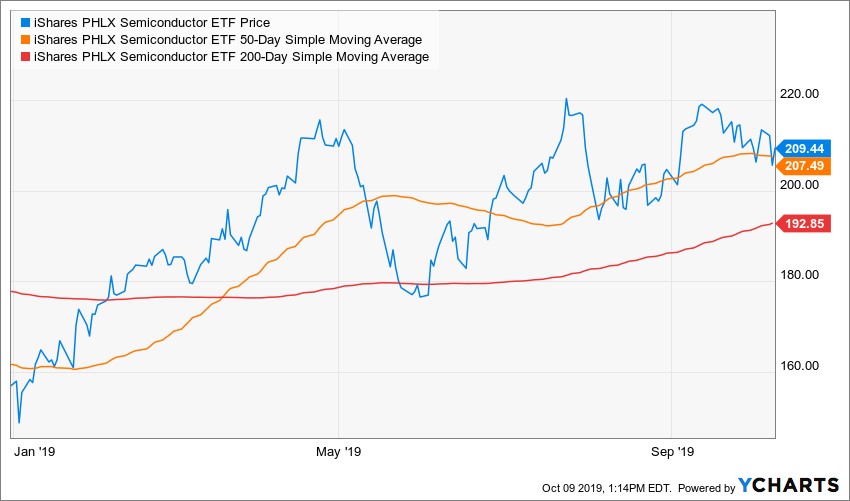 Semiconductors, as measured by the iShares PHLX Semi ETF (SOXX), are flat since President Trump ordered U.S. companies to blacklist Huawei in May. The real trouble, however, is still ahead … and not necessarily for the Shenzhen-based firm.
Huawei is a very big fish in the larger technology ecosystem.
U.S. senators Tom Cotton, Rick Scott, Mike Braun, Marco Rubio and Josh Hawley, according to Bloomberg, want American firms to forfeit that business, forever.
And, their fingerprints are all over new bans for 28 Chinese artificial intelligence firms.
To be clear, American politicos are taking dead aim at "Made in China 2025," a long-term strategic plan issued by the Chinese government in 2015. The goal is to move the country away from being the world's factory to a value-added economy.
MIC 2025 lays the groundwork for Chinese firms to gain dominance in 10 emerging sectors like artificial intelligence, electric vehicles and biomedicine. Today, most of these disciplines are dominated by Americans firms, research institutes and universities.
The political solution for maintaining that edge clearly involves killing the transfer or sale of anything that might help the Chinese catch up.
Tech companies worry this type of short-sighted, hardline thinking will lead to balkanization, less innovation and ultimately smaller profits for stakeholders.
And that's the elephant in the room for investors.
American tech leadership is the envy of the world. U.S. companies rightfully enjoy premium valuations to their European and Asian counterparts.
However, there are forces at work that want to limit the size of the total addressable market. That's not being factored into current valuations.
It's a big risk.
Sen. Scott told CNBC in July that doing business with Huawei is non-negotiable because the firm is a national security threat. He also said he didn't believe a deal with China was ever possible.
Trade envoys from Washington and Beijing will meet later this week. Despite more than a year of back and forth, the two sides are arguably further away than ever from an agreement. The fact that the White House is pushing new bans — or that leading U.S. senators are talking about economic warfare — will not help matters.
Traders should use strength to exit semiconductor positions. More trouble lies ahead.
Best wishes,
Jon D. Markman