coronavirus testing
Startup Maps the Health of a Worried Nation
A tiny San Francisco startup called Kinsa Inc. is using mapping software and one million connected thermometers to help researchers reliably determine where and when COVID-19 hotspots will occur.
They have built a thriving business around the idea that real-time health data could solve big problems. Now, the company is having its moment in the sun in this fight against the coronavirus pandemic.
In 2016, the U.S. spent $3.3 trillion for healthcare, which was 18% of gross domestic product. Government agencies spend tens of billions of dollars trying to prevent infectious diseases. But almost nothing is spent on tracking where and when illnesses will spread.
Forty years after the widespread adoption of personal computers, the state-of-the-art procedure still involves nurses sending a form to the Center for Disease Control once a week.
Data gathered by Kinsa is real-time, geolocated and contextually accurate because the people using its devices are ill.
By connecting a special yet inexpensive thermometer to a smartphone app and using mapping models, Kinsa can build real-time health weather maps. They show where people are getting sick, and, more importantly, when and where future illness hotspots are likely to develop.
Great companies start with great people. And the idea behind Kinsa is the creation of Inder Singh, a first-generation American born in the suburbs of Pittsburgh. After graduating magna cum laude from the University of Michigan, he earned graduate degrees from MIT and Harvard and worked in Silicon Valley. Eventually, he became a consultant and the executive vice president of the Health Access Initiative at the Clinton Foundation.
Simply put, Kinsa is the evolution of his academic and professional career.
By making the thermometers inexpensive, Singh has been able to put one million sensors to work collecting real-time data points across every geography. Then, the magic happens on the back end.
Machine learning and advanced analytics can track symptoms, transmission rates and the duration of illnesses. Kinsa can then provide important insights.
According to a New York Times story, for the past few years, Kinsa's maps have accurately predicted influenza outbreaks across zip codes weeks ahead of the CDC.
Pairing that data with what researchers know about the COVID-19 pandemic puts the company in a unique position. New readings far outside of the normal range may indicate new coronavirus outbreaks.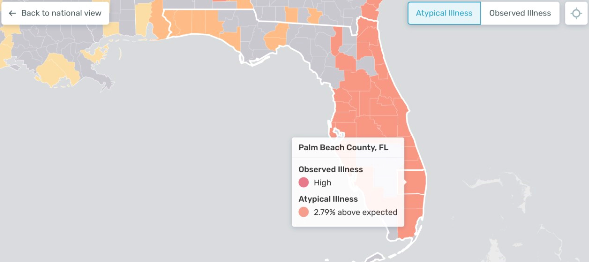 Source: BocaNewsNow.com; Example of a Kinsa map
In the middle of March, Kinsa health maps pointed to a potential new COVID-19 epicenter in South Florida. At the time, only 19 positive tests in the region had been reported.
More recent data collected by John's Hopkins University noted 2,357 new cases and 20 deaths across Palm Beach, Broward and Miami-Dade counties.
This kind of information could be a gamechanger for health leaders trying to get ahead of the pandemic. Resources could be directed to likely hotspots. New temporary hospitals might be erected. Testing kits and infrastructure could be concentrated among those in need, as opposed to being wasted on the worried well.
The opportunity for investors is the use of predictive tools like Kinsa maps in conjunction for real-time testing, quarantine and contact tracing.
Dr. Anthony Fauci argued in a CNN interview on March 29 that more extensive same day testing is the only way out of the COVID-19 crisis. Testing, he says, is the only way restrictions on population movement can be lifted. As the director of the National Institute of Allergy and Infectious Diseases, his voice is likely to be heard.
Several companies are in position to take advantage of this. In early March, the Trump administration started working with public companies Laboratory Corporation of America (LH), Quest Diagnostics (DGX), Thermo Fisher Scientific (TMO) and Abbot Laboratories (ABT).
CNBC reported last week that LabCorp and Quest will begin processing 100,000 and 200,000 tests weekly by the end of March.
Abbot Labs also announced March 28 that it won emergency approval from the Food and Drug Administration for the use of a COVID-19 test kit that provides results in as little as five minutes.
According to an Los Angeles Times story, the Chicago company plans to supply 50,000 tests per day starting in the first week of April.
Cepheid, a unit of Danaher (DHR), also won emergency FDA approval to begin marketing its COVID-19 rapid tests. The Xpert Xpress SARS-CoV-2 test provides results in as little as 15 minutes when used with GeneXpert, an automated analyzing system. The extra advantage of the Cepheid solution is there is no need for a clean room or for outside analytics.
There's no doubt about it, the United States is about to begin the next phase in the fight against COVID-19. Kinsa is ready to provide valuable intelligence, which is helping healthcare leaders direct resources to new hotspots. Clearly, public companies will play a big role in this process too.
Millions of rapid-result tests are coming. Growth investors should begin taking positions in Danaher, Thermo Fisher, Abbott Labs, Quest and Lab Corp into any weakness.
Best Wishes,
Jon D. Markman