5G
Supersonic 5G wireless could kill the cloud
The future of communications is careening toward us at an incredible clip. The new age is going to be amazing and messy at the same time.
Verizon (VZ) rolled out fifth-generation wireless service in four U.S cities last week. 5G is so fast that it changes what is possible with networks. It brings computing closer to data sources.
This is a sea change. Investors need to understand the opportunity, and the players.
It's all about speed. In tests, 5G has been shown to be 1,000 times faster than LTE, the current standard wireless protocol. Nominally, that means downloading an entire high-definition movie in seconds, not minutes.
In other words, this marks the end of waiting for information to reach our devices.
Killing latency is a big deal. It opens up new business models far beyond simple media consumption … like autonomous cars and package-delivering drones … smart lampposts and traffic lights … and even remote robotic surgery.
Related story: Robotic surgery pioneer Intuitive Surgical cuts it close
Initially, 5G will make it easier for these devices to communicate in real time with centralized cloud-computing networks. Longer term, blazing-fast wireless networks have the potential to eliminate the cloud as a computing platform.
A post-cloud world would involve billions of autonomous smart devices. They would process and act on the data they collect at the edge of the network, in real time. It would be a world with fewer human operators.
In the same week that Verizon 5G triumphantly arrived in Los Angeles, Indianapolis, Houston and Sacramento, the company announced it would offer severance to 44,000 employees, and transfer another 2,500 IT jobs to an Indian outsource company.
The cuts represent 30% of its workforce. They also symbolize the coming disruption.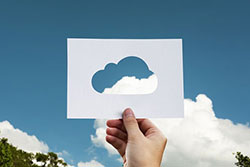 Some say 5G technology will mark the beginning of the fourth industrial revolution. It will allow for improvements in robotics, healthcare, automation and more. And it might reduce or even eliminate the need for the cloud.
And don't look to the federal government to stand in the way. The Los Angeles Times reported Oct. 6 that the Federal Communications Commission has taken the unusual step to nationalize public infrastructure for 5G.
New FCC guidelines establish a maximum price of $270 and 60- to 90-day fast-tracking for small-cell installations on right-of-way infrastructure like city street lights, signs, telephone poles and public buildings. If municipalities balk, telecommunications companies can sue.
The balance of power has shifted. Wireless carriers and the companies building their infrastructure have been unencumbered. They are sitting on the precipice of controlling the gateway for the next generation of computing.
Verizon and T-Mobile (TMUS) are in the best position to win from the wide scale rollout of 5G. While managers wait for new edge-computing opportunities, they intend to use the wider, faster, denser networks to offer new products to compete with traditional cable TV offerings.
These new businesses, in conjunction with corporate restructuring, will offset some of the costs of building out 5G networks.
Although Verizon shares are on the verge of a record high, the forward P/E is only 11.6 times. Profitability is surging following years of uneven performance. The company earned $30.1 billion in 2017, an increase of 129%.
T-Mobile trades at 17.2 times forward earnings. This Bellevue, Wash., company has been a model of consistency, with average revenue growth in the low double-digits since 2013. Net income surged 210% in fiscal 2017.
But there's another investment opportunity riding this trend you won't want to miss …
Another important 5G play is Crown Castle International (CCI). This cell tower Real Estate Investment Trust rents capacity to the leading wireless carriers, plus the fiber that connects those sites to the networks.
Crown Castle managers are building and acquiring small-cell infrastructure at a furious pace. To date, they have invested $13 billion across the top U.S. markets.
These cells are upgradeable and agnostic. They also support multiple carriers. Building network footprints in key markets now will yield competitive advantages for years to come.
The company released second-quarter financial results in July. Rental revenues surged 35% year-over-year, to $1.17 billion. Net income rose to $180 million, $28 million above plan.
During a conference call with analysts, Jay Brown, chief executive officer, noted persistent tailwinds for shared small-cell infrastructure:
Demand-driven growth is pushing margins higher.
Return on investment yields have reached the middle teens.
And Brown believes the business is where large cell towers were 20 years ago.
Ultra-fast, wireless networks are going to change what is possible.
My Power Elite subscribers are sitting on a tidy double-digit gain in Crown Castle. It's one of the few businesses in the publicly traded universe with such strong competitive advantages. There are a few others like it, though. Just last week, I recommended another company that's quietly accelerating away from its competition in the automotive market. One that's pulled back to a great entry point where longer-term investors can enter this great business. Want this stock name? Click here to gain access >>
Investors should seize the opportunity to buy the infrastructure plays now.
Best wishes,
Jon D. Markman