Investing
Tech Giants Set to Tackle the Healthcare Crisis
Big technology companies are finally pushing into healthcare. For those of us fed up with surging insurance premiums, repeated bureaucratic snafus and occasionally substandard patient outcomes, change couldn't come soon enough.
On Tuesday, CNBC reported that Verily, the Alphabet subsidiary formerly known as Google Life Sciences, is in talks with insurers about taking on the risk for hundreds of thousands of patients.
This is just the first step in a digitalization of healthcare. 
When Google became Alphabet (GOOGL, Rated "A-"), many questioned the motivation. The bets on businesses beyond search and advertising seemed like an extravagance.
Even today, the lion's share of sales and profits come from its Google assets. Its websites, Google, YouTube, Gmail, Calendar, Photos and Play are considered best-in-class. Most have user bases near 1 billion. And Alphabet is only too happy to serve ads against all of those page views.
But when Ruth Porat joined the company from Morgan Stanley, the role of the satellite businesses became clear …
Porat — known for her bottom-line-oriented, no-nonsense approach — organized the bets into standalone enterprises. Then, veteran chief executives were hired to develop profitable business interests.
However, each company shared Google's DNA. Like their successful parent, they began as machine-learning science projects, looking for real-world applications.
So far, Verily has been hit-and-miss. The company worked with Novartis on a contact-lens system capable of detecting glucose levels for diabetics. It developed a motion-stabilizing spoon for people suffering from tremors. And there have been advancements in surgical robots, nanoparticles and even bioelectronic medicines.
All these pursuits are cool. They even push the machine-learning envelope. But they are far from making enough money to keep the lights on.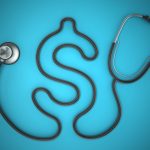 We're set to see digital fix healthcare … and algorithms play the starring role.
The focus changed with Project Baseline — a 10,000-patient, four-year study in partnership with Duke University and Stanford. Verily is outfitting all study participants with state-of-the-art wearable sensors.
Researchers will collect and analyze biological data, in addition to traditional health information, with the express goal of developing a baseline for good health.
It is a big, ambitious endeavor. It is also the source of extremely valuable data.
The market Verily is now looking to disrupt is not traditional health insurance. Known as Population Health, or Care Management, it involves delivering cost-saving recommendations to a single payer. That single payer could be the government, corporate enterprise or a health-insurance provider.
If Verily can deliver, it wins a share of the cost savings.
The big idea is to develop winning protocols. Verily would use its machine-learning chops to help with early detection, preventive measures or strategies to reduce expensive emergency-room visits.
According to Grand View Research, the size of the Population Health sector is expected to reach $89.5 billion by 2025. For perspective, in 2015, the market was worth $20.7 billion.
It is a market ripe for disruption …
Last year Marc Andreessen, the acclaimed venture capitalist, updated his classic 2011 Wall Street Journal essay about "Why Software is Eating The World." Andreesen was bang-on in 2011. He saw how software would change media and commerce. He understood why digital changed everything.
He now believes digital is about to fix healthcare … and that algorithms will play the starring role.
He is not alone. That is why Jeff Bezos, Berkshire Hathaway CEO Warren Buffett and JPMorganChase CEO (JPM, Rated "B+") Jamie Dimon are teaming up.
Amazon.com (AMZN, Rated "B"), the company founded by Bezos, is sitting atop a supercomputer and legions of software engineers at Amazon Web Services. Algorithms are the foundation of the online store Bezos built.
For investors, all of this is only beginning. Tech giants are likely to make inroads. Understanding data is their business. But they will not win everything.
Accenture (ACN, Rated "B+") is already a formidable player. Its existing Population Health business is robust, and well-regarded. While the global management consulting firm may not have a supercomputer, the company does employ some of the smartest managers, with tested strategies and proven track records.
It also has broad reach into the largest enterprises, stretching across every sector. In this case, familiarity is a competitive advantage.
Related story: Buffett Provides the Blueprint for Successful Investing
Accenture's business is also built for digital. Managers have parlayed digital transformations into solid growth. Revenues have grown every year since 2013. And there is much more to come. Consulting bookings totaled $5.9 billion in the first quarter, a rise of 21.5% over the same period last year.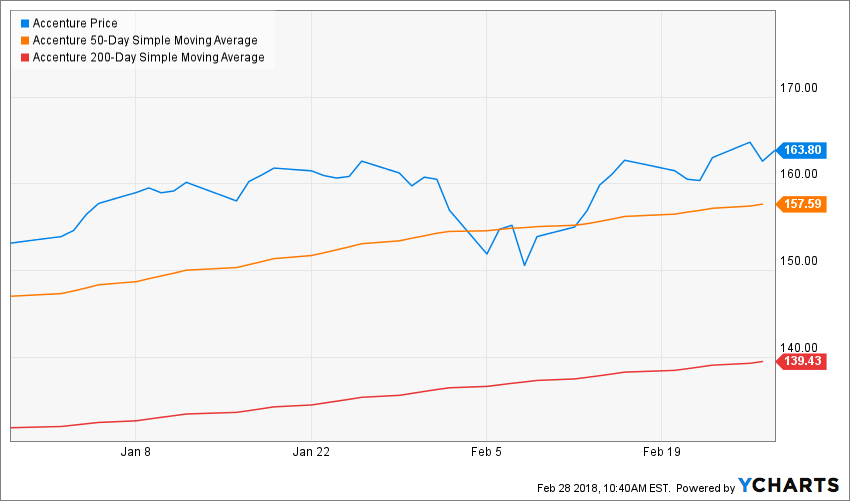 The shares are up 7.6% this year, and 35.5% over the past year. The share price has compounded at an annual rate of 18.9% over the past five years. The growth of Population Health should keep the gains coming.
So, as an investor, you may want to look more closely at ACN and the other healthcare "digitizers" I mentioned. Or simply check out my Power Elite newsletter, which is dedicated to uncovering extremely profitable and promising companies like them. Click here to get started.
Best wishes,
Jon D. Markman