AI
As wages rise, China turns to a robot workforce
The world's most-populous country is embracing the robot revolution, and all that goes with it.
Last week, 533,000 visitors packed the World Robot Conference in Beijing. The western media focused on battle bots, bionic flying foxes and tiny soccer-playing robots.
Those were fun, sure. But the bigger story is China's growing prowess in smart machines.
It is preparing for the next industrial revolution.
China Bets on Economic
Reboot with More Robots
China is the world's top market for industrial robots. So Wall Street should have seen this coming.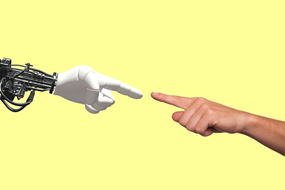 Shanghai's minimum monthly wage is the highest in China, at US$366.62. That's 2.5 times higher than it was 10 years ago. Robots complement the workforce and even work to build more robots.
In 2014, Chinese President Xi Jinping welcomed a robot revolution in manufacturing. In only two decades, cheap labor pushed the country from relative poverty to the second-largest economy in the world.
In the process, wage growth exploded higher. Shanghai has become a hotbed of manufacturing, where monthly incomes have increased 250% in the last decade alone.
Economists see no end in sight as birth rates slow and the working Chinese get a taste of western-style consumption.
Xi's plan is to boost productivity through aggressive automation. In theory, the manufacturing world will gravitate to China for its robotics expertise, and then stay to serve its growing consumer economy.
In 2016, the International Federation of Robotics reported Chinese automation sales volume reached the highest level ever recorded for a single country.
For perspective, at 87,000 units, Chinese buying was around the same as Europe and the U.S. combined.
Growth was driven by the electronics industry. In 2016, Foxconn, a leading contractor, began outfitting its factories with artificially intelligent robots. By May of that year, the South China Morning Post reported the iPhone builder eliminated 60,000 jobs in a single factory on the outskirts of Shanghai.
In 2018, another suburban Shanghai facility pushed the limits of automation even further.
JD.com, a major e-commerce company, unveiled a warehouse capable of fulfilling 200,000 orders per day. Products are picked, packaged and routed for shipping all day, every day, under the watchful eye of only four humans.
And the humans' role is merely robot servicing.
As productivity increases, JD.com is building out warehouse distribution at a frenetic pace. In 2018, warehouse space grew 85%, to 10.9 million square meters. It is even experimenting with drones so proficient that they can carry 60 pound payloads, while speeding across the Chinese countryside at 60 mph.
With a workforce of 998 million, the politics of automation might get in the way of strategic long-term economic planning. In China, not so much. In March, President Xi became leader for life as term limits were removed.
And despite the ongoing trade war with the Trump administration, he is pushing forward with Made in China 2025. The plan is to move the country up the value chain with state investments in aerospace, clean energy cars, advanced basic materials and especially robotics.
In doing so, China would move from an economy of low-value, low-wage industries toward high tech.
Investors need to understand the context. They also need to see the opportunity.
Cadence Design Systems (CDNS) makes flexible, scalable systems used to design tiny integrated circuits — the building blocks for the next generation of intelligent electronic products.
Semiconductor design is becoming more complex than ever. Cadence makes the tools to design the intellectual property central to Made in China 2025.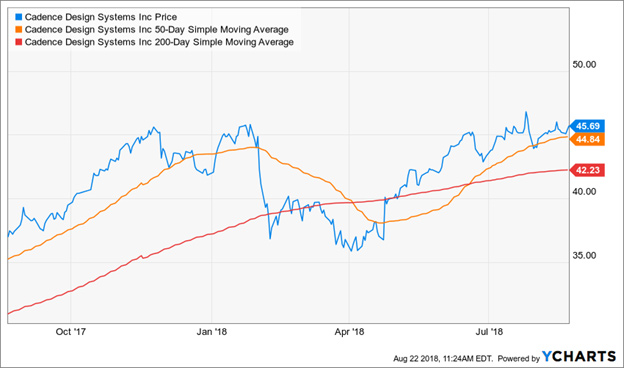 Cadence is up 9.3% year-to-date,
and up 23.5% over the past year.
In July 2018, Cadence announced the Defense Advanced Research Projects Agency, the Pentagon research group, selected it to help build a new, unified platform. One that will automate the design of next-generation processors and printed circuit boards.
Its current business is growing steadily, with strong cash flow. In 2017, operating cash flow surged to $471 million, on $1.9 billion in sales.
According to a slide deck posted this month for use at Oppenheimer's 21st Annual Technology, Internet & Communications Conference, Cadence services all of the top semiconductor enterprises.
It has 4,100 research and development engineers and 1,500 professionals in the field, including innovation centers scattered throughout Southeast Asia.
Diminutive, consumer-friendly robots are cute. However, a battle to control the future of smart machines is heating up.
Cadence is in the right places, at the right time. Consider buying on pullbacks in the shares.
Best wishes,
Jon D. Markman