Will General Electric (GE) ever bring good things to life again? Not if its latest quarterly results are any indication. In fact, the stock still remains mired in no-man's land – trading for less than it did when GE stopped using the famous advertising slogan in 2003.
Consider the litany of Q2 woes we just learned about: Profit down 30% year-over-year. An additional $300 million to $400 million in costs annually due to tariffs. Lowered projections for adjusted free cash flow. Ongoing problems in its power business.
It's clear GE has fallen on hard times. The problem is that this potential comeback story STILL doesn't look like it'll have a happy ending. Reason: The Q2 results were just the latest in a long line of setbacks for the company … and the stock. Desperate shareholders need to phone a friend.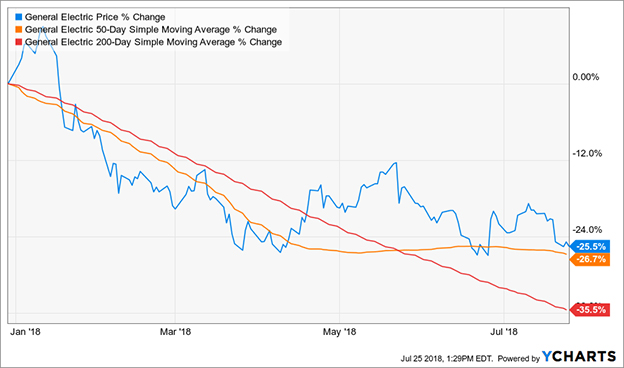 GE revealed in May that it expects no profit growth in its power business this year. This prompted Wall Street to call on the company to cut or even suspend its dividend. Shares are down 25.5% year-to-date.
While we could see a short-term, oversold bounce at any time, I believe long-term investors should continue to avoid the stock. Let me explain …
Founded in 1892 in part by inventor Thomas Edison, GE quickly became an icon. From light bulbs to massive hydroelectric power plants, the New York conglomerate was the epitome of American ingenuity.
In 1896, GE became one of the original 12 companies in the Dow Jones Industrial Average. By 1912, its engineers were using phenolic resins to mold plastic. They later developed the world's first jet engines and solid-state lasers.
At the onset of the Internet, in 1992, GE engineers repurposed excess processing cycles from company mainframes. They used them to build Genie — one of the first online communities.
At one point, GE was the most-valuable U.S. public traded company. It owned banks, financing companies, a brokerage and big media units.
Those were the days …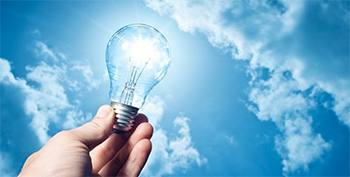 The lights are out at GE. And investors shouldn't expect anyone to be at home anytime soon.
Since then, company's fortunes have faded. Managers lost their way. Significant investments in media, aerospace, healthcare and energy yielded uneven results.
Financial engineering took precedence over research and development.
Bottom line: The company stopped innovating.
Since the 1990s, GE sold its advanced materials, lighting, plastics and appliances businesses. And in 2013, its long, expensive foray into media ended with the sale of all assets to Comcast(CMCSA).
Today, the company is a hodgepodge of aviation, power generation, oil and gas, and digital services. Except for the latter, none of the core divisions are growing particularly fast.
GE Digital bet big on the idea of smart factories. The concept imagined an Industrial Internet of Things (IIoT) with supply chains connected to factory-floor robots.
Sandwiched in between was GE's Predix software platform. This is a carefully calibrated network of sensors and data analytics. The goal was to produce more-predictable outcomes.
There is a reason for optimism with Predix …
Inside the company, the success of Predix has been stunning. In 2015, Bill Ruh, the chief digital officer, said the platform helped divisions save $500 million. Ruh predicted benefits of $1 billion annually by 2020.
Coincidentally, that is the same year Accenture expects the overall market for the IIoT spending will reach $166 billion.
GE Digital is well-positioned to grab a good chunk of that multibillion-dollar market. Ruh says the digital business will be $15 billion in sales by then. As a point of reference, revenues were $5 billion in 2015.
Undoubtedly, GE Digital is onto something big with the IIoT. Sadly, this may not be enough to save GE.
Overall, the company had $119 billion in sales during 2017. In the bigger picture, digital is a rounding error.
The company needs a radical shift to unlock shareholder value.
For many years, institutional investors have clamored for the company to be broken up. They see value in the sum of all of the disparate parts.
For the first time, managers are signaling that a shift may be in the cards. They're planning to sell off the firm's health care division, as well as wind down its 62.5% stake in the oilfield services company Baker Hughes (BHGE). But will it be enough?
Investors clearly remain skeptical. Shares were down 42% in 2017. At some point, downside momentum will slow. It always does. When that happens, expect a relief rally. The share price will revert to a level in keeping with the historical growth rate.
Typically, all of that would be good news. Unfortunately, historical metrics have not been great for long term shareholders. Sales trends are weak. GE's core businesses are mature. And managers have shown no ability to build lasting competitive advantages or create shareholder value.
There is a better way to play the growth of the IIoT. I have been telling my members to focus on the early winners, like the awesome but little-known John Bean Technologies (JBT).
Like GE Digital, John Bean operates in three divisions: solutions, training and consulting. Revenue continues to accelerate as industrial companies outfit factor floors with more robots, more connected solutions.
Another company that we recommend, Cognex (CGNX), makes best-in-class machine vision systems. Its sensors, surface inspection systems, and software are bringing automation to manufacturing. And the company has a dominant sales operation in the U.S., Europe and China.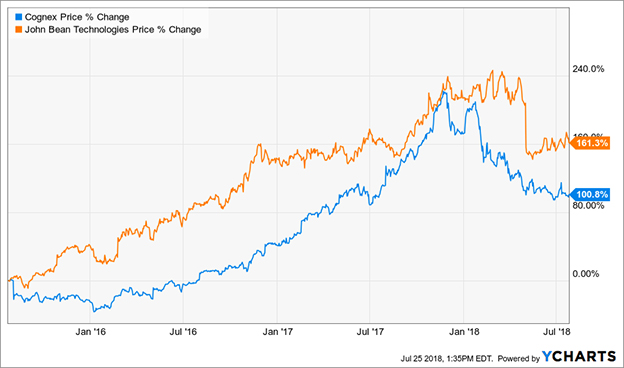 In the last three years, Cognex is up 100.8%, while John Bean is up 161.3% (3 years).
I understand the appeal of a GE comeback story. As a speculator, I'm intrigued. But as an investor, I know there are better ways to be involved in the best part of its business.
Best wishes,
Jon Markman