Cloud Computing
Why Amazon is the Government's Secret Weapon
Amazon is up 31.4% this year, and up another 100% since Jon first recommended it.And his track record trading options — with real money, in real time, by real investors — is even more outstanding, with 99% average yearly gains since 2012.

In a Video Conference Call next week, he'll talk with me about how you can go for similar gains with this same winning strategy.

Click here to RSVP — so you can listen in at zero cost. — Martin
The Pentagon is close to awarding Amazon.com (AMZN) a 10-year contract that could be worth $10 billion. Its mission: to help the Defense Department operate securely in the cloud.
Investors should pay attention, especially now with the stock trading just off its all-time high. That's because bright fundamentals always drive stock prices.
Since the dawn of the cloud computing era in 2006, a handful of big technology companies — Amazon, Alphabet, Facebook, Netflix, Salesforce.com and Nvidia — have taken the world by storm. They transformed industries with new business models. They built best-in-class products.
Customers voted. The innovators won.
Normally, that would be the end of it. Nuisance lawsuits aside, legacy companies would lick their wounds, hire new managers and get back into the game, if they could.
The U.S. president seems to want to change that dynamic. He is waging a public war with a successful, innovative American corporation that plays hard but fair. His public statements have driven down the share price, which hurts investors.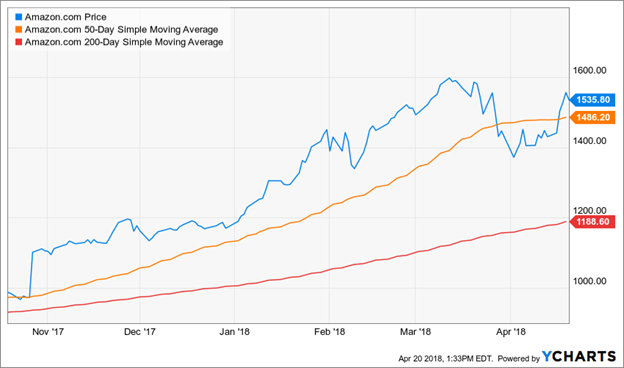 Amazon fell as much as $200 from its all-time high of $1,617.54 amid an unusual attack by the White House. The stock has since recovered a little more than half that amount. Click image for a larger view.
It is an extraordinary thing. It's a new risk that must be considered. However, it's hard to keep a great stock down for very long …
That's because Amazon Web Services is the undisputed leader in cloud computing. It has scale, and the biggest third-party network of any cloud vendor. My own business could not function without it.
Managers also built a robust reseller program around open standards. And the AWS GovCloud, a separate secure server infrastructure launched in 2011, has made significant — and lasting — inroads into many state and federal government agencies.
In July 2014, The Atlantic reported a secret deal struck during 2013 between AWS and the Central Intelligence Agency. The groundbreaking $600 million, 10-year agreement stretched into all 17 intelligence agencies.
Its big selling point was that the CIA would pay only for the AWS services it used.
This pay-as-you-go model had revolutionized private IT infrastructure by radically reducing costs. In 2013, AWS brought it to the U.S. government.
As its capabilities progressed, AWS and its partner network snagged more contracts. They became more integral to future plans.
In July 2016, the State Department awarded AWS and its partner C3 IoT, a software developer, a wide-ranging contract to provide predictive analytics and real-time access to telemetry, enterprise and extraprise data across 22,000 facilities.
That kind of reach gives AWS a big leg up in the fight for the Department of Defense's $10 billion Joint Enterprise Defense Infrastructure program.
According to Business Insider reporting, government officials are so confident AWS will win JEDI, they have already begun making the transition to GovCloud. "I can't imagine any possible way that the deal could be stopped," said the anonymous source.
Given that the DoD wants to award the contract to one company — and that it already has AWS infrastructure, plus a network of approved resellers, in place — the point is well-taken …
No other company can provide the requisite scale and security.
Longer term, I expect the stock will reach well above $2,300 — driven by its bright fundamentals. The wildcard is Trump and his disdain for Jeff Bezos, the founder of Amazon.com. But the company's prospects for sales growth in the cloud are solid. And with customers like the CIA and, perhaps soon, the DoD, there's little that can keep this good stock down.
Best wishes,
Jon