AI
How financial technology is eclipsing the banks
Banks and credit unions are in a fight for their lives. A financial technology revolution is underway. The old world order is dying.
In early September, Bloomberg reported Mastercard (MA) and Google had entered into a secret data-sharing arrangement. On paper, it looks like another advertising play to see whether online ads result in real-world retail spending. In reality, it's the beginning of the end.
Fintech is turning old business models upside down. Many would say it's about time.
By dollar value, the financial services sector is the biggest piece of the economy.
For centuries, middlemen have been building financial models, imposing fees and getting rich. In medieval and Renaissance Italy, opulent bank branches began popping up in affluent coastal cities. The Medici banking dynasty was established in 1397.
Along the way, there have been booms, busts and scandals. Yet, systemic changes have been rare throughout the past several hundred years.
Banks have always operated by serving the top of the market. They loan money based on accumulated assets. This business model has remained one of relatively low volume, high value and high fees.
Armed with data analytics, machine learning and APIs — the connective tissue that lets databases communicate freely — fintech entrepreneurs are doing to banking what Google did to shrink-wrapped software.
In other words, their business models hinge on a massive number of low-value, low-cost transactions.
Data is the real prize. It can be monetized. It can be used to create better algorithms.
And while banks still spend much of their free cash flow trying to authenticate identity and root out fraud, fintech companies can validate customer credentials with a modern smartphone.
Most devices have sophisticated biometrics like fingerprint sensors. Some even have iris and voice scanners. Open APIs connected to software running in the cloud makes the entire process efficient.
Related story: How you tap, type & swipe can keep you safer online
There are some important user benefits, too …
As costs fall and the number of verified digital identities grow, new fintech lenders are more likely to base loans on data analytics.
This would be an important step toward democratizing small business banking.
Square Inc. (SQ) is best known for its ubiquitous white square card readers. However, the company is primarily a data business.
Managers made a number of smart acquisitions before they entered the banking realm. And in the fourth quarter of 2017, the company enrolled 47,000 small businesses, while piling up $305 million in loans for Square Capital, its small business lending program. Data analytics and cash flows metrics are key in loan consideration.
PayPal (PYPL), another fintech company, is aggressively targeting banks from the other flank. Its Venmo smartphone app allows users to quickly and securely send money. With a few taps, roommates can share the rent payment, or split a pizza dinner. Ultimately Venmo, and apps like it, make the bank branch system and ATMs irrelevant.
The Mastercard and Google data sharing deal is the first step down that road. It gives value to credit card transactions, beyond the fee.
Related story: This banking middleman knows the route to the loot
Banks, brokers and insurers are right to worry about this development. It means their business model is in peril.
Many are aggressively implementing new technologies to make their ecosystems stickier. Attacks from the fringes are pushing banks to fortify their business.
It is pushing them toward friendly fintechs …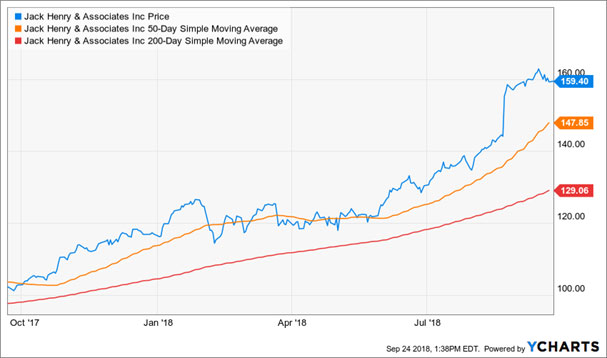 My subscribers are sitting on a 51% gain in Jack Henry. And we're banking on bigger gains as more financial services go high-tech.
One of these is Jack Henry & Associates (JKHY). Both culturally and geographically, the Monett, Mo., company is far removed from Silicon Valley. Yet, the thriving software business serves 11,300 regional banks and credit unions.
Jack Henry managers understand their bank and credit union clients are under attack. They know bank customers need to feel like their banking needs are not stuck in the past. This means implementing the latest automation processes and value-added features.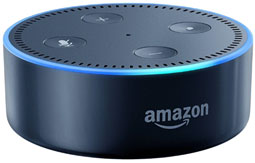 Jack Henry customers can ask Alexa to check their account balances, transfer funds, make payments, get loan payoff information, cancel payment cards and more through Amazon's Alexa. Cloud communications company Twilio sends text receipts for these transactions.
Their software allows customers to use their smartphones to move money between accounts, pay bills and even deposit checks by snapping a photograph. In the future, they will be able to perform many of these functions by voice.
Jack Henry even has an Alexa skill that brings voice-activated personal banking to Amazon Echo-enabled devices.
Revenues have been on a steady 6% to 9% trek higher. Fiscal 2018 sales reached $1.54 billion. Profits accelerated to $376.7 million, up 52% over 2017 levels.
Jack Henry is a trusted fintech in a world of attackers. Banks and credit unions need its services more than ever.
The shares are up 36.1% this year, and the market capitalization has reached $12.3 billion. However, the stock is still attractive even at 35.5 times forward earnings.
Best wishes,
Jon D. Markman