Apple
Heartfelt Watch 4 ushers in new time for Apple
It's easy to beat up on Apple. Management seems smug. Its lack of real product innovation in its yearly releases can get depressing.
But every five years or so, the company does something really special. 2018 has become one of those years.
Loyalists and tech writers gathered in Cupertino on Wednesday. There were slick commercials and new iPhones. And then there was the fourth incarnation of the Apple Watch.
Wow!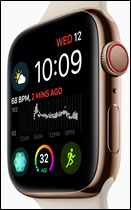 The Apple Watch Series 4 doesn't look different. But this version lives up to the company's 1997 'Think Different' slogan with cutting-edge sensors and software. So does its new HeartWatch app that tracks health symptoms that might otherwise go unnoticed and undiagnosed.
I'll admit, I have not been a fan of previous versions of the Apple Watch. The initial watch was cumbersome, expensive and ugly. Follow-ups were modestly refined, and ugly.
Version 4 (pictured) is no horological beauty. It's still the flat-screen TV of wristwatches. It's a big, black, mostly lifeless rectangle.
The larger screen, smaller bezels and thinner form factor do not make the new Apple Watch beautiful. The capability to add pictures of loved ones to the watch face is only moderately less garish than a toe-tapping Mickey Mouse.
And, with all due respect to Dick Tracy, nobody wants to make phone calls from their watch. At least, not for more than a few words.
What's different this time around is software. The Apple Watch Series 4 shows what a piece of wearable technology can be. And there is no going back.
The most important moments of the entire Apple event this week came when Jeff Williams, chief operating officer, began talking about the sensors and software inside the Watch 4.
Driven by S4, its innovative dual-core 64-bit processor, the device runs a next-generation accelerometer and gyroscope. Apple claims the combination can sample motion data eight times faster than previous Watches.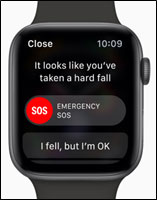 The Watch 4 can alert you to irregular heart rhythms. It can even initiate a call for help to your emergency contacts. And a future software update aims to measure and record tremors and other symptoms that could lead to Parkinson's disease research and diagnoses.
Its software can detect falls based on the trajectory of the wrist, motion and impact.
The ceramic-and-sapphire back has a new array of electrodes. These sensors constantly collect heart-related data. Users can get notifications if their heart is beating too slowly or too fast, and if there is atrial fibrillation — an irregular rhythm.
The device is even capable of taking electrocardiograms.
Irregular and rapid heart rate dramatically increase a person's risk of stroke and heart failure. The new Apple HeartWatch app, developed with the American Heart Association, packages this data, in addition to ECGs, into portable document files stored privately in the cloud. These can be saved and sent to a family physician or specialist.
Building software to process personal health data is certain to be a big business in the future. The new Apple Watch sets a high bar.
According to a report in the MIT Technology Review last year, Alphabet (GOOGL) is getting ready to enter the playing field. Verily, its health sciences subsidiary, has built hundreds of watch prototypes. In September 2017, the latest had a simple paper-white face, and a plain gold case. It was also capable of ECGs and possibly monitoring blood pressure.
The device would complement Project Baseline, its massive study to map human health. With partners Duke University School of Medicine and Stanford Medicine, the project seeks to monitor 10,000 people over the course of four years.
Investors should focus on the bigger picture. Wearables are finally getting ready for prime time.
In previous Apple watches:
ST Microelectronics (STM) has made gyroscopes and accelerometers work.
Analog Devices (ADI) made the screen touchable.
And Texas Instruments (TXN) developed technology for battery management.
While all of these are well-managed companies, they are not the investment story.
Wearables have become about software.
Right now, the clear choice is Apple.
Related story: Tech giants set to tackle the healthcare crisis
The iPhone-maker is hardly undiscovered. It became the first $1 trillion publicly traded company a month ago. Berkshire Hathaway, the investment company run by Warren Buffett, bought 75 million shares in Apple's first quarter of 2018. Wall Street analysts love the stock more than the Hamptons in August.
Like the fingerprint sensor of the iPhone 5s smartphone from 2013, heart monitoring is a game-changer. And because Watch 4 only works with iPhones, it should drive market share gains over Android handset makers.
I understand, my views are not outside the mainstream, but long-term investors should buy Apple shares into any significant weakness. It's cheap and it executes. Something special is coming into view.
Best wishes,
Jon D. Markman