Apple
Microsoft Folds Up a Winner with New Smartphone
The reviews for Microsoft Surface Duo, a foldable tablet/phone, are out and they are brutal. But the device is going to be a winner for shareholders, ultimately.
Duo is an impossibly thin, beautiful new communications form factor. It has two screens, a 360-degree hinge and is built for multitasking. It's also a buggy, first generation device right now.
Teaser: But the critics couldn't be more wrong, just like they were when the iPhone made its historic debut >>
The software can be fixed, but the innovation is two distinct screens and it's a big deal.
Modern smartphones have been slabs of plastic, metal and glass since the first iPhones debuted in 2007. The innovation then was a glass screen with a multiple point, touchscreen software interface. In hindsight we recognize the genius.
Critics in 2007 said the screen, at only 3.5 inches, was too small to be touch friendly. They said the device lacked enough flash memory to run applications smoothly, that by the way, were exclusively developed by Apple Inc. (Nasdaq: AAPL, Rated "B"). The pundits complained iPhones were only available through AT&T Inc. (NYSE: T, Rated "C-") and that the $500 price tag was too expensive to be a mainstream product.
To be clear, the Surface Duo is not the next iPhone. But it's going to be a big business for Microsoft Corp. (Nasdaq: MSFT, Rated "B").
The target market is business professionals looking for the mobile equivalent of their trusted two screen desktop setups. Duo is a pocketable version that lights up with two splendid 5.8 inch screens, then can be easily closed and put away when the work is complete. Microsoft product managers planned every facet of the emotional experience and it can't be replicated on smartphones and tablets with multitasking.
Critics are underestimating the size of the market for such a unique device.
Productivity, according to the Microsoft 2019 annual report, is a $41 billion market for the Redmond, Wash.-based company. Microsoft Office, its productivity suite that includes Word, Excel, PowerPoint and Outlook, is the de facto standard across word processing, spreadsheet, presentation and email software in the corporate world.
Related post: Why Microsoft and Walmart Want to Sync Up with TikTok
In 2018, Gartner, Inc. (NYSE: IT, Rated "C"), a prominent IT research firm, found that Microsoft Office claimed 87.5% of the email and authoring marketplace. Googles Docs was a distant second place with an 11% share.
On the desktop, it's natural for business users to have Outlook open on one screen, while they browse the web or look at their calendar on the other. These, and other productivity tweaks, can be easily mimicked on Duo, with one other big benefit.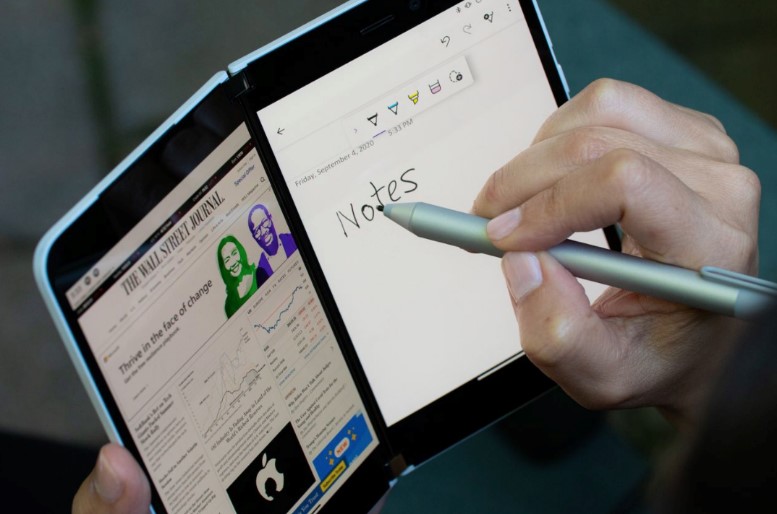 Source: WSJ
Adding a Surface pen makes one screen available for digital notetaking. Handwriting gets transformed into a legible, shareable new digital document.
Duo reviewers were understandably frustrated with first generation software glitches. A Wall Street Journal headline claimed Duo was "two screens, too many problems." Wired said the product was "Not quite there."
Source: WSJ
These issues are somewhat expected given the device is as much Google as it is Microsoft. The hardware is the same industrial design magic that has won deserved praise for the Microsoft Surface lineup. Google's Android, by far the largest mobile operating system in the world, powers the software experience.
And while Microsoft has built a strong Office suite for Apple's iPhones and iPads, its software focus has clearly been fashioning a more tightly integrated Android experience.
Related post: Why Microsoft has Flourished Wile Intel Has Failed
For example, Duo's main settings menu offers a "link to Windows" toggle that lets users respond to calls, send text messages and run supported Android apps on any Windows 10 computer connected to the same WiFi network. It's not hard to imagine the benefit of this integration for the one billion computers around the world running Windows 10.
That's the target market for Duo, a prize the company is well positioned to win.
It's important to keep in mind that the original Microsoft Surface, which launched in 2013, was panned mercilessly. Weak sales meant Microsoft took a $900 million write-down for unsold inventory one year later. But the company persevered. Managers understood that company control of Office was an inherent competitive advantage in the corporate world.
Surface revenues in Q2 of 2020 alone grew to almost $2 billion.
Overall, at $1,400, Duo may seem too expensive and its software experience may not be as smooth as it could be. However, its real innovation is hardware. Two distinct screens that can be closed completely is unlike anything available on the market. It's the foundation for a new type of productivity device to serve a gigantic corporate market that Microsoft dominates.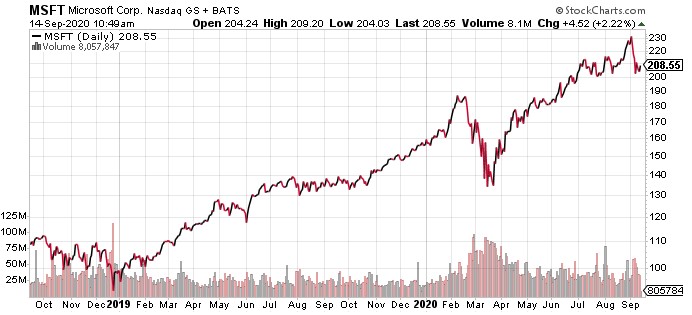 Source: Nayadaur.tv
Investors should continue to use periods of weakness to add to Microsoft positions.
Best wishes,
Jon D. Markman