Amazon
Stay Bullish on Big Tech
The Nasdaq pushed to another new high Monday. The technology-heavy index is now up 14% in 2020. The gains come despite the pandemic, and with political and macroeconomic uncertainty off the charts.
Much of this growth was propelled by just six companies traded on the index.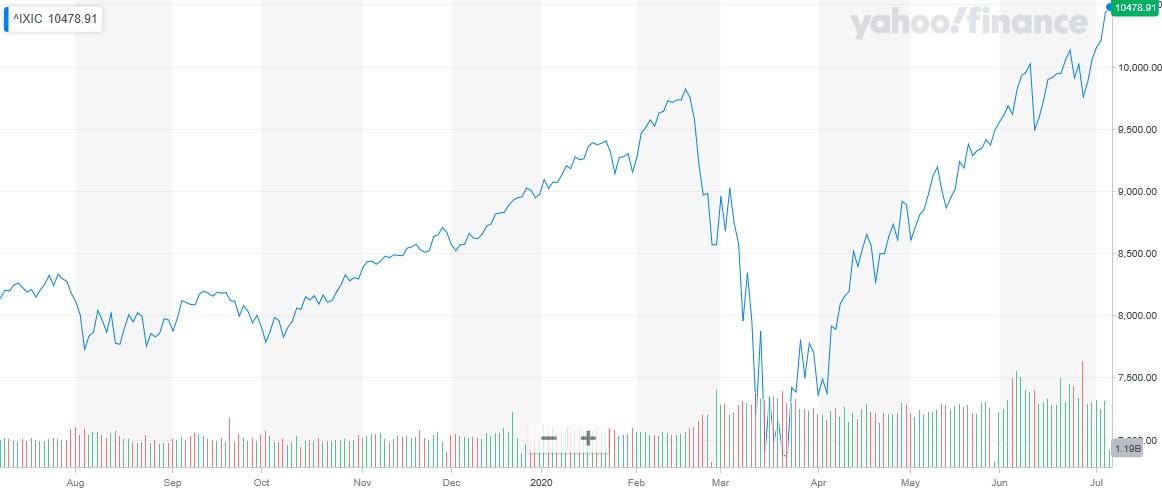 NASDAQ Composite
I was struck by a research piece posted at Dimensional Perspectives. The researchers went back to see if the current concentration of market capitalization among the so-called FAANG stocks is a historic anomaly.
Investor enthusiasm for the shares of Facebook (Nasdaq: FB, Rated "B-"), Amazon.com (Nasdaq: AMZN, Rated "C+"), Apple (Nasdaq: AAPL, Rated "B-"), Netflix (Nasdaq: NFLX, Rated "C")  and Alphabet (Nasdaq: GOOGL, Rated "B") — which spell out out the acronym FAANG — plus Microsoft (Nasdaq: MSFT, Rated "B+") has been insatiable.
Related Post: Microsoft Was Built for the COVID-19 Crisis
These companies, combined with JPMorgan Chase (NYSE: JPM, Rated "C"), Johnson & Johnson (NYSE: JNJ, Rated "B-"), Walmart (NYSE: WMT, Rated "B") and Visa (NYSE: V, Rated "B-"), represent the top ten stocks in the Standard and Poor's 500 index and account for 21.7% of the market capitalization-weighted index.
In 1930, the largest companies by market cap were AT&T (NYSE: T, Rated "C-"), General Motors (NYSE: GM, Rated "C-"), Exon (NYSE: XOM, Rated "D+"), Marathon Oil (NYSE: MRO, Rated "D+") and DuPont (NYSE: DD, Rated "D"). Shares of these companies, and four others, accounted for 26.8% of the S&P index.
Thirty years later, five of the top six firms were unchanged. IBM (NYSE: IBM, Rated "C-") replaced Marathon Oil. More importantly, the top 10 firms accounted for 30.9% of the index. For perspective, that is a full 9% more than today's top ten, and that takes into account the sizzling 66% year-to-date gains for Amazon.
Big technology is not too expensive. As a group, it's too cheap.
This idea is not new. I have been writing this since 2010. These businesses are changing the trajectory of global commerce. They are more important today than they were six years ago … and they are likely to be even more important a decade from now.
Regardless of the naysayers, America's biggest tech companies are leading the world toward a digital transformation that will make every aspect of commerce more measurable and efficient.
Bearish investors can rail against buzzwords like cloud and edge computing. They can scoff about the valuations of enterprise software companies. To be sure, a few of these worries are valid.
Namely that some firms, especially the smaller competitors to big technology firms, will fail.
But investors are still underestimating the core competitive advantages of scale. They're also miscalculating the size of the business opportunity.
McKinsey and Company, the global business consulting firm, notes that before the pandemic 92% of company managers thought their business models needed digitization. According to researchers, since the fallout from the COVID-19 pandemic, business leaders have realized they have been moving too slowly on this front.
Related Post: This Ecommerce Company is Vital in the New Age of Retail 
Consequently, despite macroeconomic uncertainty, medium and larger enterprises have accelerated their digital transformation strategies. The direct beneficiaries have been big technology firms with established working relationships and diverse platforms.
There is every reason to believe companies like Amazon.com, Microsoft, Google and others will continue to benefit.
While the stocks may have run up too quickly in the short term, the longer-term outlook remains strong.
Best wishes,
Jon D. Markman